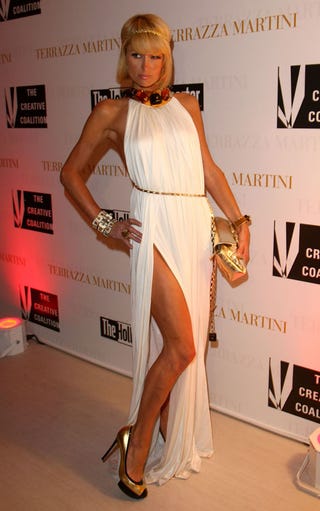 Paris Hilton's presence definitely set the tone at the Creative Coalition, THR and Screen Media Films Reception at the Plages du Palms in Cannes last night. Which is to say, everyone looked pretty VH1!


The Okay!

Remember that summer when everyone looked pregnant? Yeah, glad that's over. But! Sonalii Castillo looks darling.



Nicole Fantl's mini may be nothing earth-shattering, but it's also not hurting the Earth. Well, depending on its fabrication. And its production.



Peaches Geldof's dress may be a bit creased, a tad pulling, but she looks pretty and, hey, the bar's not that high for "The Okay."


The Bad:

Paris Hilton's Goddess of Pre-Recession Excess is, for some reason, wearing spectator pumps.


The Ugly:

Lady Victoria Hervey doesn't seem to understand the concept of "peephole." "Gaping hole" doesn't have quite the same effect.


What Say You?

Silja's Olympian party girl: nice or naff?



On the one hand, SoKo looks like a real, furious person who obviously doesn't use a stylist and has flair. On the other, she is wearing an entire flea market table.