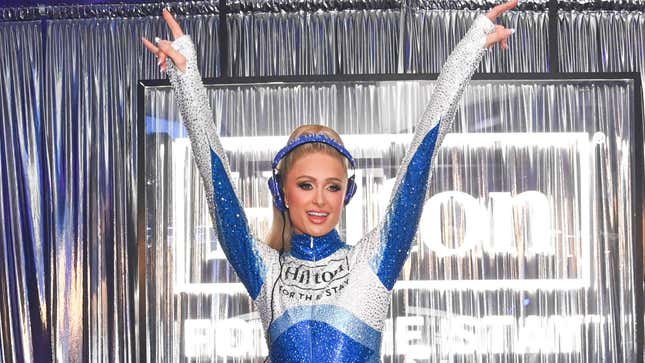 Even though the 2006 bop "Stars Are Blind" is about a little summer romancin', it appears pop princess and very wealthy lady Paris Hilton has taken its meaning quite literally this year because this star has turned a blind eye to the devastation of a natural disaster.
As the death toll of the Maui wildfires rises to 96, with nearly 1,000 residents still missing, Paris and her family have apparently decided that now would be ideal for a lowkey getaway. On Sunday, the Daily Mail posted photographs of the socialite and DJ snuggling up to husband, Carter Reum, in the ocean at a resort in Wailea—just 30 miles from the wreckage in Lahaina. The couple, both 42 years old, were also pictured carrying their son Phoenix.

The situation in Maui is dire at the moment, with advocacy groups barring even Oprah from bringing cameras into survivor shelters. Jason Momoa also posted a warning to his Instagram over the weekend, begging tourists not to travel to Maui. "Maui is not the place to have your vacation right now," the actor captioned a slideshow with instructions for donations and mutual aid. "Do not convince yourself that your presence is needed on an island that is suffering this deeply. Mahalo to everyone who has donated and shown aloha to the community in this time of need."
And then there's Paris, canoodling with her husband and baby at a luxurious resort just a hop, skip, and a jump away from the wreckage. Here's what I don't understand: On Sunday, Paris posted a reel of her vacation with Reum on a yacht in Greece with the hashtag #SummerOfSliving, noting how relieved she was to have time for such an "incredible escape with my love after countless weeks of flights, performances, shoots, and mommy duties." If you already fulfilled your #SummerOfSliving, why not just, you know, stop traveling? And if she really needed to continue cavorting in serene tropical settings, why not pick, I don't know, ANYWHERE ELSE?

Netizens are calling Hilton an "idiot" for the "tone deaf" trip, and Hilton, who usually documents nearly every moment of her life, seems to know she's messed up. On Monday, she uploaded two Instagram stories linking to posts from the Hawaii Community Foundation prompting followers to donate to the Maui Strong Fund (and I'd strongly suggest that Paris open her wallet, too).

I don't think two impersonal IG stories are going to make up for a pretty severe lapse in judgment by a mega-wealthy heiress, but Paris doesn't appear to be too bothered by the situation. She's already back to posting about her metaversal fan hub…Slivingland.