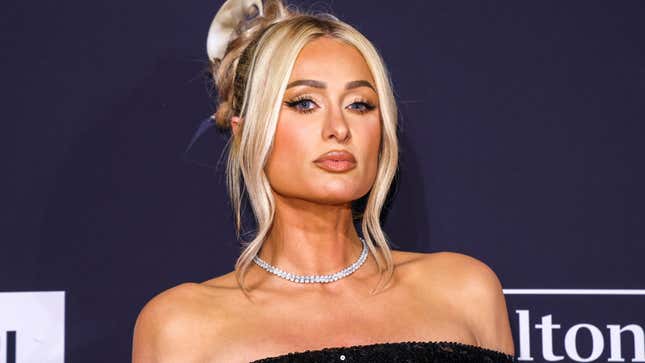 Paris Hilton—socialite heiress, former reality star, NFT enthusiast, and apparently the highest-paid female DJ in the world—just revealed a whole lot more about herself on the digital cover of Glamour UK, ahead of the release of her tell-all, Paris The Memoir, on March 14.
While the piece can't help but comment on Hilton's discussed-to-death voice (it's "several octaves deeper when off-duty, compared to Paris Hilton's 'on duty' soft, coquettish, baby voice"), it also dives pretty deep into Hilton's personal life and explains her latest dabblings in political activism. Hilton has previously addressed the trauma she endured from her time at an abusive Utah boarding school and the fallout from a sex tape leaked without her consent, but this latest profile of the 42-year-old first-time mom details new revelations from her past—including an abortion she had in her early 20s—and some disturbing allegations about men in her life.
On abortion and politics
Glamour writes that Paris is "keen to speak out" about the Supreme Court's repeal of Roe v. Wade because she had an abortion, herself. "This was also something that I didn't want to talk about because there was so much shame around that," she said. "I was a kid and I was not ready for that."
G/O Media may get a commission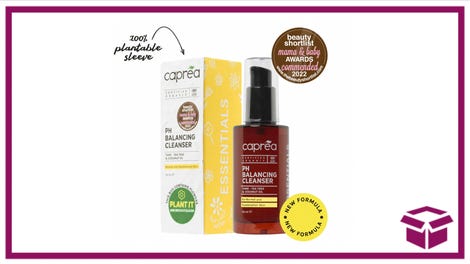 Save $9
47% Off Essential Organic PH Cleanser
Sustainable beauty
Caprea's Essential Organic PH Cleanser is just $10 with promo code TEN. Normally $19, this foaming face wash is crafted with organic Monoi oil. It's meant to target the production of oil secretion while protecting your skin against air pollution. Normally $19, you can save big on this richly-lathering face wash while supporting a brand that keeps the environment top of mind.
On Roe being overturned, Hilton says, "Why should there be a law based on that? It's your body, your choice and I really believe in that." Amen sister. But the Glamour writer also asked about the fact that Hilton "claimed to have voted for" Donald Trump, noting that he was "a close family friend of the Hiltons since Paris was a child"—which apparently didn't sit well with the heiress. The reporter writes that she "bristles and snaps back" in response; "Not anymore," she says. Annnd scene.
On egg freezing and surrogacy
Hilton says that when she was exploring pregnancy options, she turned to her childhood friend Kim Kardashian, who encouraged her to get her eggs frozen. She did one round of IVF after Kardashian told her about it. And during lockdown, she also had 20 embryos frozen with her now-husband.
Though Hilton is now a mother, she and her husband chose to get pregnant through surrogacy, on which was she also influenced by Kardashian: "Kim told me about that [surrogacy] as well…I'm using the same doctor, Dr Huang, who's the best and he has a concierge team that deals with everything and interviews the people [the surrogate] to make sure that they're healthy."
Hilton says she would've used a surrogate even if she was having kids at age 20, because she is so traumatized by doctors due to her time at Provo Canyon School in Utah, where she spent 11 months as a teen. She claims administrators constantly gave her shots, took samples of her blood, and put in IVs her unnecessarily. She also says she was traumatized by shooting a live birth scene on The Simple Life.
On her run-in with Harvey Weinstein
Hilton details an encounter with Harvey Weinstein at the Cannes Film Festival in 2000. She was 19 at the time and says he approached her at a lunch.

I was at lunch with my girlfriend and he came up to the table and was like, "Oh, you want to be an actress?: And I said, "Yeah, I really want to be in a movie." I was a teenager, so I was impressed by him. I was like, "Oh my god, Harvey Weinstein is so cool!" and he said, "Well, we should have a meeting. You can come up to my room and read scripts"… and I just didn't want to go, so I never went."
At a gala Weinstein was hosting the following evening, Hilton says Weinstein "became aggressive with her."
I went into the bathroom and then he followed me…He tried to open the door, he was hammering on the door, banging on it. And I wouldn't open it, because I was like, "I'm in a stall, why do you want to come in here?" And I just wouldn't open it. And security came and literally carried him away and he was like [shouting], "This is my party," going nuts. It scared me and freaked me out.
Hilton admits she'd heard the rumors about Weinstein at the time, but never said anything because she didn't "want people getting mad" at her. "He was just like that and people were like, 'OK, just turn a blind eye.'"

A little bit of everything else
Hilton alleges that a teacher "manipulated" her at 15 years old. She details how he called her on the phone repeatedly, lured her into his car, and kissed her.
The same year, Hilton says a group of older guys spotted her at the Century City mall, invited her and a friend to their house, and gave them berry wine coolers. Hilton says she began to feel dizzy after two sips, and knew she had probably been roofied. She says she had visions of the man on top of her. It was her first sexual experience, she says.
Her fake bimbo persona was a "character" that "was a trauma response," she says. "It was actually more comforting to put on this mask just to deal with everything I'd been through in life...I was inspired by Marilyn Monroe, Barbie and Dolly Parton, all these blonde icons who were definitely playing characters as well. And that just made me not think about any of the bad stuff. It was like a total escape."
Hilton maintains that she has not received a single cent from her family and that she is entirely self-made. (The woman clearly has a strong business acumen, but come on.)
She is planning a Paris Hilton line of spas! She says she's never had Botox, and instead "stay[s] out of the sun, I get facials and use EMS electric therapy, preventative things." She already has an aggressive home spa, too: "I have a whole wellness center at my house with the sickest equipment you've ever seen. I have a hyperbaric chamber that fits four people, a cryo machine that fits three people, the NuEra Tight machine, which is the new laser that tightens your skin. The Icoone that goes and does a lymphatic thing, but shapes your whole body. I have like 20 machines."
Growing up, Hilton had pet ferrets and a goat.
"I'm not a dumb blonde, I'm just very good at pretending to be one," Hilton says of her past. "The real me is someone who is strong and resilient, brave, smart and fun."

I'm very much here for Hilton's personal growth and airing out all her trauma and demons, and I'm sure she'll be a great (and well-supported) mother. And when it comes to recovery, I imagine having $300 million, a "whole wellness center," and a hyperbaric chamber for four doesn't hurt.