The Parents Television Council has issued a strong warning to CBS about the programming surrounding its 50th anniversary broadcast of Rudolph the Red-Nosed Reindeer. Their request is simple: Can you not promote tits and gore during the show?
The family-friendly Rudolph broadcast is set to air tonight at 8 p.m. Afterward, it's NCIS and the Victoria's Secret Fashion Show special. The PTC has told CBS that their best course would be to tread lightly:
Despite the NCIS buffer, the PTC wants the network to be mindful of both NCIS and the Victoria's Secret Fashion Show's adult-themed content. The organization has urged CBS to be respectful of family audiences tuning in to watch Rudolph.

"CBS should refrain from airing any promotions of the routinely-graphic NCIS or the always-racy Victoria's Secret Fashion Show during the Rudolph broadcast," PTC president Tim Winter said in an exclusive statement to The Hollywood Reporter.
The statement continues, rather mockingly:
"Obviously, the network is going after different audiences with these three shows, but it would violate the trust of families if the innocent holiday special is interrupted with promos featuring gory corpses or scantily-clad lingerie models," Winter added. "While we continue to object to a network-sponsored lingerie 'special' on the publicly-owned airwaves, we call on CBS to take every precaution to help parents protect children from such dramatically different fare that is airing in adjacent time slots."
G/O Media may get a commission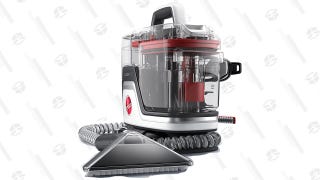 Save $10
Hoover CleanSlate Plus Carpet & Upholstery Cleaner
Protect poor Rudolph at all costs. You'll recall that the PTC also griped about ABC's decision to follow up a Charlie Brown special with a Scandal sex scene.
Image via CBS