Remember Sarah Palin? Of course you do. You had weird dreams about her for the second half of 2008, and the sight of her randomly stringing conservative buzzwords together on TV like she's some kind of expert causes you to question the value of your college degree. But just when it seemed like she was riding off into the sunset on a red, white, and blue snowmobile, she returns to reignite speculation that she might run for President in 2012. The Nightmare Before Christmas, indeed.
The former governor of Alaska appeared on Fox Business Network's "Follow the Money" to note that "it's not too late" for "folks" to jump into the Presidential race, and that she's not yet ready to endorse any of the current field. When pressed, she refrained from saying explicitly that she herself wasn't going to be throwing her hat in the ring, even though in October she said that she wasn't running for President because of God and her family. And also because she could make a lot more money being a reality TV star.
Curiously, her "Who knows what could happen in the future?" horrormusings on Fox coincide almost perfectly with her failing to find a buyer for her new reality series that would focus on husband Todd's career as a professional rider of snow machines. Producer Mark Burnett had hoped to shoot it during the summer of 2012 and was asking for $1 million per episode, but as of last week, TLC and A&E have both passed. Sounds like someone's just got a big schedule opening smack in the middle of campaign season, unless MTV wants to tweak her show into a sort of Alaskan Teen Mom that focuses on how both of the champion of abstinence-only education's grandchildren were conceived out of wedlock.
In spite of the fact that many Americans have gleefully appeared on television to demonstrate that they are not Smarter than a Fifth Grader and about 40% of the population believes that science textbooks could be replaced with a pamphlet that just reads "Magic!", Palin could not win the Presidency, or even the GOP nomination.
First, and most obviously, no one likes her— as of March of this year, 60% of Americans agreed that she sucks. Further, if she ran and lost, she'd go from maverick rogue who refuses to swim like a dead fish (Quitter) to Loser. And a Loser can't make a sequel to a biopic called The Undefeated with another updated version called The Undefeated II: Electoral Boogaloo.. She can't win, so she's not going to run, but what she will do is say whatever she needs to say to keep people from forgetting about her, and no one will forget about her if they're occasionally forced to confront the terrifying vision of Sarah Palin delivering a State of the Union address. The Palins are political Kardashians; fame keeps them alive and gossip and speculation keep them famous. Expect to hear a lot more down home Presidential hemming and hawing from Palin in the upcoming months. Her very survival as an irritating but useless fixture in American politics depends on it.
G/O Media may get a commission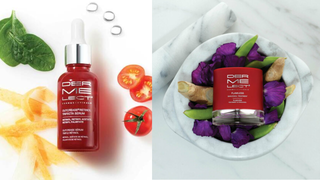 Save $19
Retinol Renewal Kit
Merry Christmas, America.