A Jerusalem court's decision to jail 30-year-old Sabbar Kashur for 18 months has made legal history — and is causing a furor across Israel.
So, is the case as nakedly awful as it sounds on the face of it? Pretty much. Here's the Guardian's description:
According to the complaint filed by the woman with the Jerusalem district court, the two met in downtown Jerusalem in September 2008 where Kashur, an Arab from East Jerusalem, introduced himself as a Jewish bachelor seeking a serious relationship. The two then had consensual sex in a nearby building before Kashur left. When she later found out that he was not Jewish but an Arab, she filed a criminal complaint for rape and indecent assault.
Kashur is appealing the ruling.
The available accounts seem to differ on the level of deception involved: some merely describe the man as "introducing himself with the traditionally Jewish name," thereby lying by implication whereas others, like the above, make the deception seem more overt. It's also unclear how she discovered his actual background.
G/O Media may get a commission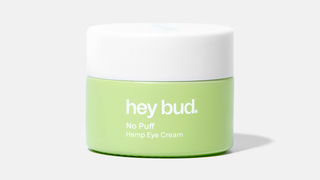 15% off
Hey Bud - No Puff Hemp Eye Cream
Said one of three judges, Tzvi Segal, the court understood the sex to have been consensual, but "If she hadn't thought the accused was a Jewish bachelor interested in a serious romantic relationship, she would not have cooperated," and as such it took place under false pretenses. She added that it's the law's responsibility to protect women from "smooth-tongued criminals who can deceive innocent victims at an unbearable price." She adds:
When the very basis of trust between human beings drops, especially when the matters at hand are so intimate, sensitive and fateful, the court is required to stand firmly at the side of the victims – actual and potential – to protect their wellbeing. Otherwise, they will be used, manipulated and misled, while paying only a tolerable and symbolic price.
While it's hard to look past the racial and religious issues at play - to say nothing of the problematic paternalistic elements of the latter statement - in fact there is some precedent, however tenuous. In Israel, says Al Jazeera,
The most notable case was in 2008, when Israel's high court of justice upheld the conviction of Zvi Sleiman, a man who impersonated a housing ministry official and promised women apartments and benefits in exchange for sex. A rape conviction sentence could be upheld, the court ruled, when "a person lies does not tell the truth regarding critical matters to a reasonable woman". Several other men have been convicted of "rape by deception" since that ruling. But the Kashur case appears to be the first time a person's race has been used as the determining factor.
And elsewhere in the world, similar cases have come to trial. Says the Telegraph, "In 2007, a Syrian pilot walked free from a court in Swansea after being accused of tricking a woman into intercourse by saying it could cure her of a sexually transmitted disease. A court in Massachusetts also acquitted a man who allegedly masqueraded as his twin-brother in order to have sex with the man's wife." And again - you'll notice that those men were acquitted.
Besides the ugly echoes of racist anti-miscegenation legislation, the case would seem to set a very dangerous precedent - one that both calls into question the judgment of any consenting adult and allows for abuse. To paraphrase one commenter on the BBC, Where does it stop? Could it become a crime to tell someone you love them to get them into bed? To a degree this trivializes the very real tensions of Israel, but it's a valid point. And, of course, many would argue that in any other case, it would not be an issue. Says Gideon Levy, described by the Telegraph as "a leading liberal commentator" in Israel,
I would like to raise only one question with the judge. What if this guy had been a Jew who pretended to be a Muslim and had sex with a Muslim woman. Would he have been convicted of rape? The answer is: of course not.
Others argue that the underlying assumptions of the ruling are offensive. As Abeer Baker, an Israeli Arab-rights lawyer, tells Al Jazeera, "In this case, the ruling seems to say that if a 'reasonable' Jewish woman knew a man was an Arab, then she would not make love to him."
Human-rights lawyer Leah Tsemel argues, too, that the accused was following behavior patterns imposed upon him by entrenched discrimination:
"It is very well known that Israeli-Palestinians living in Israel disguise themselves. You change your accent and you change your dress because if you look like an Arab you face harassment. If you want to enter a pub, you'd better not look like an Arab and if you want to have sex with an Israeli girl, you had better not look like an Arab.
None of this is to say that deception is defensible: presumably Kashur acted on the assumption that, were he truthful, the woman would not have slept with him. But is this criminal? Literally, so it would seem. And yet, despite the judge's talk of "protection", this doesn't feel like any kind of victory for women - so much as a sickening loss for everyone.
Arab Guilty Of Rape After Consensual Sex With Jew [Guardian]
Palestinian Jailed For Rape After Claiming To Be Jewish [Telegraph]
Israel Jails Arab For 'Deceit Rape' [Al Jazeera]