I have a department store's worth of products scattered across every available surface in my apartment, like a very well art directed fungus. I also work in two very different industries that require entirely different daily looks. I'm not exactly sure where the correct assignment of cause and effect is in those two facts.
By day, I'm your standard issue tech sector dork. Hired for number crunching and other sundry TPS reports, I spend most of my day making documents print and resetting people's Outlook passwords for the sixth time in seven days.
By night, I work in events and staffing, cat herding everyone from bands to go-go boys/girls and "celebrity" hosts. Generally, I'm running around like a meth addled rhesus monkey to make sure the night's events go as planned and the people there to get drunk and have fun do exactly that.This makes most of my week become this weird makeup triathlon:
A simple day look that's office appropriate.
A night look that will read in dim lighting, doesn't take too much heavy spackling, and won't make me look like a drag queen in the predawn subway ride home.
The transition between these things needs to be simple enough to be done in an office bathroom, a taxi, or balancing my make up mirror on top of my enormous sparkly purse on the train.
Bonus Challenge: That mega purse also has to contain a "Let's Make A Deal" contestant's worth of stuff (clothes, snacks, a book, a pair of heels, safety pins, a phone charger, Q-Tips, souls of my vanquished enemies), so both faces have to be done with a limited amount of products to save my skin, space in my bag, and the remainder of my spinal column.
Much like my day, this diary is going to be a long one. A handy TL;DR for those so inclined:
Daytime: Apply ALL the things in thin layers, blend until smooth.
Nighttime: Color + Glitter = PARTY!
---
Morning (8:00 a.m.-ish):
Alarm goes off, is promptly ignored for an hour or so.
First order of business is stumble into the shower and wash with pure olive oil soap from The Soap Works. I take care of my twice weekly hair washing with Shea Moisture Coconut And Hibiscus Shampoo, then condition with Mixed Chicks Deep Conditioning cream. My skin is just as dry as my hair, so I coat my body in Caudalie Divine Oil at the end of my shower, even though it smells way too flowery for my liking. Better briefly floral scented than scaly, and it's the only oil I've used that keeps me pleasingly soft and lifelike, without causing odd body breakouts.
G/O Media may get a commission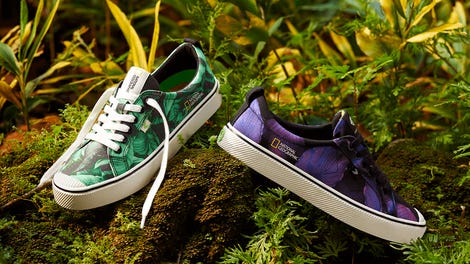 New New New
Cariuma + National Geographic
My current partner in crime is a product thief/in denial so any skincare or bath stuff I buy has to work for both of us. Luckily, we both have thick heads of dry curls (2B, and 4B respectively) and sensitive skin.
While I'm waiting for the coffee to finish brewing and make higher brain function possible, I wash my face with drugstore Cetaphil and apply Caudalie Vinosource SOS Thirst Quenching Serum on my face, neck and cleavage. I kind of feel bad that I don't have an amazing skin routine. However, I think my skin and I have reached a nice detente: I pile on the minimum amount of crap necessary to get through my 18-hour day; it spares me fits of irritation, dry patches or any transmogrification into a troll after my 30-some-odd years on the planet. I finish up my prep by brushing my teeth with Marvis jasmine toothpaste, as the standard Crest reminds me way too much of an ill advised peppermint schnapps hangover that may or may not have happened when I was about 15.
Now it is time to paint on my day face/makeup mothership for later. Like a lot of (half) Mediterraneans, the skin around my eyes is darker than the rest of my face. I wake up looking like I'm wearing a neutral eyeshadow (yay!), but I also have perpetual dark circles (boo!). I pat on Amazing Cosmetics Concealer in Light Golden on the undereye area and inner corners (almost touching the sides of my nose), and blend with the warmth of my fingertips. I apply L'Oreal True Match Foundation in W1 with a generic wedge sponge from the beauty supply store bulk pack.
Now for the Swiss army knife/bargain basement Holy Grail of my make up routine: Revlon Illuminance Creme Shadow Palette in Skinlights #730. It's marketed as cream shadow, but is so blendable and sheer that I use it for subtle highlighting/ cheek contour, a basic eye, and even short term lip color in a pinch. I stockpile this stuff in ridiculous amounts, as it is the last in production holdout of the original Revlon Skinlights line, which was absolutely amazing, discontinued, then partially brought back in a polished turd of a reformulation.
Today, I use the 4 shades in a slightly modified version of the shape shown in the directions on the back of any drugstore eyeshadow quad.
I would use a standard contouring/highlighting palette to highlight my cheekbones, but the shades are always pink or brown based, with none of the gold/peach/coral undertones that suit my ghost colored but yellow-ish skin. As "mudbath" and "disco rosacea" are both bad looks, I make do with my beloved Skinlights.
For improvised cheek contour, I suck in my cheeks in a proper fish face, use the champagne shade to highlight the highest point of the cheekbone, all the way up, connecting to the brow bone highlight I did earlier, in a candy cane shape. A small stripe of the chocolate shade goes in the hollow underneath the cheekbone, and I blend like a kindergartner using finger paints. Releasing the fish face, I blend the rose gold into the apples of my cheeks.
I've been sick for the past week, and still look a little greige, so I'm also opting to do a quick pseudo bronzer to restore the little bit of human color I have. Using Marc Jacobs Blush in 210 Irresistible, I blend a tiny bit into the apple and low cheekbone using the in-package brush. I also tap a tiny bit onto the other parts of my face that would tan if I were physically capable of doing so. Because there's the cream formula underneath (and I've got other crap to add later), I use a very light hand so it all doesn't muddle too much or look striped.
Now that that epic complexion fest is done, I line my upper lash line with Rimmel Soft Kohl pencil in #061 Jet Black, and put one coat of classic Diorshow on my top lashes, as all I need is a bit of a boost in thickness; my natural lashes are pretty long and defined. I pull a disposable spoolie out of another bulk pack and use the little bit of mascara left on the brush to keep my brows in place. I don't recommend this unless you also have super heavy/dark brows and a slight tendency toward "fuck effort" as a life philosophy.
I slick on Rouge d'Armani Sheer Lipstick in 301, straight out of the tube. It's a whisper sheer coral-ish orange, but still orange. Take that, office appropriateness.
All of this make up makes fast hair necessary, not that I am any fan of doing a lot of hair styling in the first place. I prefer an extra 20 minutes of sleep to being super coiffed.
I comb out the snarls with Johnson& Johnson Baby Detangler, work a pea sized amount of Rusk Wired paste through my still damp hair for frizz control, and pull it back into a low pony with a metal holder that looks like the Jason Wu SS14 runway, or a napkin ring, whatever.
I spray on a bit of the incense smoke and leather olfactory genius that is Lonestar Memories by Tauer Perfumes, and rush out the door crankily ruminating on how I just spent 35 minutes and umpteen products to look "natural".
I definitely need more coffee, as you can see the epic resting bitch face in the photo.
Nighttime (6:00 p.m.-ish):
Nine hours later, we are clocked out at the office and at the halfway mark of my day. I've got 60 minutes to change clothes, fix my face, raid my purse for snacks, and haul ass to my next port of call.
I swap out my cube duds for a cute sweatshirt dress with bedazzled sleeves, tights and ankle booties. The sparkle sleeves mask the fact that the rest of this dress is just loungewear with notions.
Dim lighting and effects lighting make me look like Spongebob Squareface, so the night belongs to products that sparkle. Both circumstances are super common in most venues, and both make minimal make up or any semblance of bone structure vanish.
Using Make Up Forever Aqua Liner in #14 Diamond Black I retrace the black pencil from earlier, extending a tiny bit at the corners, and thickening the line on the lid.
I tap Marc Jacobs Tonight Lights Glitter Dust in 302 Stagelight on my brow bone, temple and at the highest point of my cheekbone. It's a subtle glitter for grown ups, and a tiny amount goes a long way. This product is "limited edition" and I love it, so mentioning that will probably guarantee it will be discontinued in a week.
Because of the cream I used to highlight earlier, the glitter will stay put, and not pixie dust its way into my hair/clothes/purse/mouth/elbows. Two more coats of Diorshow on the top lashes, one on the bottom. I line the outer third of my lower lashline with Marc Jacobs Highlighter Gel Crayon in #62 (Ody)Sea a pretentiously named dupe for my lost love, Revlon High Definition Eyeliner in Teal Flash.
Another big smile, and a dot of Maybelline Master Glaze Blush Stick in #30 Coral Sheen, blended into the apples.
Wipe off my day lipstick, line my lips in Milani Color Statement Lipliner in #04 (a lip matching nude), overdrawing the bottom lip slightly to compensate for a childhood scar right beneath it, and slick on a coat of Dolce & Gabbana Classic Cream Lipstick in Daring #310 . It's a super saturated pink-toned violet, and I have never met a statement lip I didn't love.
I pull my hair out of the ponytail, spray in some DFI Beach Bum Texturizing Spray and rough up my hair with my hands, as the messiness will hide any residual ponytail dent. I do a quick stripper hair flip meets old school metal headbang to shake the curls loose.
All of this paint will help talent and staff to find me when they have a question about the sound guy, where the extra case of champagne is or the closest spot to grab the burlesque dancers more hairspray. A ghost pale chick with Chia Pet hair, purple lipstick and a sequined sleepsack is pretty easy to spot.
Late, Late Night (4:00 a.m. or so):
Exhausted, finally home, and in full throttle Slurms MacKenzie mode, I remove my make up with Caudalie Remover Cleansing Water, wash my face with some more Cetaphil and coat my lips in Smith's Rosebud Salve. I leave my laptop on my bedside table and let Samuel L. Jackson give me the sage advice to go the fuck to sleep.
Paige M. is a NYC based job multi hyphenate and master suitcase packer, addicted to good books and better coffee.