Last night on Toddlers And Tiaras, we met Melissa, a mom who has spent $30,000 on pageants and says of her daughter: "I feel like her and I are the same person. We live he same life and we are best friends and I just feel like that is me on stage." Except when her daughter, Carley, doesn't obey Melissa, Melissa speaks to Carley in a threatening whisper and says things like, "You are going to be a very sorry girl."
Carley has developed a stage persona, named Darla. Darla is the pretty diva, and Melissa bribes Carley to get Darla to come out. Carley was promised she would get a kitten if she turned into Darla for the weekend. So you're forcing your child to split and compartmentalize her personality? Nothing damaging about that, nope!
In case you're not convinced that Melissa is out of her damn mind, witness her behavior when Carley is on stage. All of the pageant moms coach their kids when the children perform, but this woman is out of control. Plus, she's so high-strung and critical that she sees mistakes where there are none. Instead of telling Carley that she does a great job, Melissa always finds some kind of fault with what Carley's done. In this clip, Carley protests, "I didn't go fast," and later in the show, there was footage of a judge agreeing with Carley — her beauty walk was fine.
Seriously. Melissa. Calm the fuck down.
Melissa's behavior was contrasted against that of mom Alane, whose daughter, Alessondra, usually does natural pageants instead of glitz — no tanning, no false eyelashes. Alane was bad at applying makeup, but had such a good attitude toward the pageant. She bought Alessondra's dress at a consignment shop, and consistently told her daughter she was doing great, and that no matter what happened, it was cool. Alessondra came in fourth. Carley — er, Darla — won Ultimate Supreme.
G/O Media may get a commission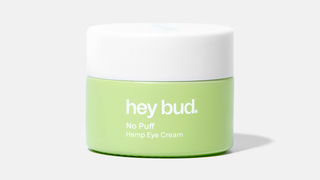 15% off
Hey Bud - No Puff Hemp Eye Cream
We also met Berkley in this episode. She loves pageants.