I am no Top Chef fanatic, but Padma Lakshmi's new memoir Love, Loss, and What We Ate sounds like an excellent read: first we found out that she wasn't quite sure who the father of her daughter was for a stretch there (fun!), and now she's revealed that her relationship with her ex-husband Salman Rushdie dissolved partially because he wasn't supportive of her health struggles.

Lakshmi told People that her shared background with Rushdie bonded them. "For us Indians, he's like Hemingway," she said.
"Imagine a young woman in her twenties, who loves books and and who had published her little cookbook and in comes this guy," she says. "I mean, he was the best thing that ever happened to me by a mile. The fact that somebody of that stature and caliber was even interested remotely enough in me to want to take me to lunch was kind of unbelievable."

They met in Central Park for their first date, and ended up in bed together. "He seduced me with his words," she says. "I was pretty hooked."
But eventually, Lakshmi's endometriosis started to affect their physical relationship. From the New York Times:
The struggles of dealing with it — she had extensive surgery — upended their sex life and contributed to the demise of their marriage, she writes. Ms. Lakshmi said Mr. Rushdie at one point called her "a bad investment" and was insensitive to her medical condition even as she tried to recuperate.

She wrote that he believed she was using her ailment to justify not having sex with him. Deciding she was better off alone, she said, "I was free to wallow in my malaise, and nurse myself without seeing the disappointment in his face."
G/O Media may get a commission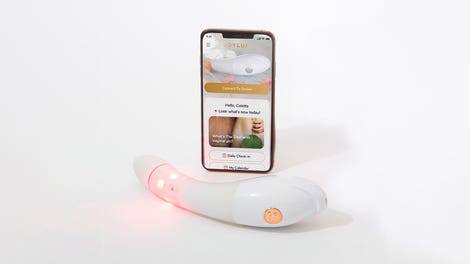 $50 Off
Joylux vFit Gold Device
Despite those cruel words, the pair are now friends post-divorce, and Rushdie supports his ex-wife's new book, telling her, "You have the right to tell your side of the story as you see it." Very writerly of him.
---
Lil' Mama was arrested for driving with a revoked license and is currently in jail in New York City.

The 27-year-old rapper—best know for her 2008 hit "Lip Gloss," and for playing Lisa "Left Eye" Lopes, was cruising around Harlem around 4 AM Thursday—when cops lit her up for doing 38 in a 25, according to our NYPD sources.

When offices ran her info... they discovered the ex "America's Best Dance Crew" judge's license had been revoked. Cops took her into custody, but beats the hell out of a DWI.
Be free Mama!
[TMZ]

---
Would you be surprised to learn that Justin Bieber skipped out on a $130 bar tab made of entirely scotch shots because one of his dancers almost got into a fight with a female fan?
We're told the group went out for a smoke and never came back to pay the bill, but they were all caught on surveillance cams.

One member of JB's entourage tells us trouble started when a female fan wanted a pic, but was denied by one of Bieber's dancers. That's when a guy with her got pissed, and started yelling and making a scene. We're told Justin's group decided it was best to get outta Dodge before a fight started.
He paid up the next day. Classic JB.

[TMZ]
---
I'll leave you with this one last quote from the Times' Padma Lakshmi piece:
Years in Paris and in Italy contributed to her personal growth through culinary and sexual adventures.
---
Contact the author at dries@jezebel.com.
Image via Getty.