Last month we brought your attention to a yet-unaired one-hour special on Oxygen that follows G-Unit rapper and Atlanta native Shawty Lo and the eleven children he fathered with 10 different women. It's calledDownton Abbey All My Babies' Mamas, and the network touts the show's mission statement to "capture the highs and lows of this extreme 'blended family' that is anything but ordinary, while also showing the drama and the passion behind life's most unexpected situations." All of the mothers have reductive labels ("The jealous baby mama," "the wannabe bougie baby mama—" complete with a definition of "bougie"—"the baby mama from hell," et cetera) and contend with Shawty Lo's current (19-year-old) girlfriend. They all seem to have met and dated Shawty Lo as teenagers themselves.
Here's a sizzle reel:
The show hasn't aired yet, but a bestselling New York author named Sabrina Lamb has gathered over 14,000 signatures on a Change.org petition to show Oxygen that there would be no audience for this kind of offensive portrayal of black families as well as the exploitation of the children.
As dysfunctional and violent as so-called reality shows are, could you ever imagine a one hour spectacle where 11 children are forced to witness their 10 unwed mothers clamor for financial support, emotional attention and sexual reward from Shawty-Lo, the apathetic "father"?

Could you imagine that Oxygen Media, known for violent programming targeting young women with stereotypical images, would consider the embarrassment that these children will experience, being used as entertainment?
Tell Oxygen that their viewers will not tolerate a show that exploits and stereotypes Black children and families, and we will boycott any advertiser who chooses to support the show.
In an interview with Essence about her boycott, Lamb adds: "To me, 'baby's mama' is a slur. It's denying the humanity of a child's existence. Every child deserves to come into the world loved by two parents, safe and wanted. In the clip I saw, Lo couldn't even remember the names of all of his 11 children. This is not funny to me. What's funny about this?" She says that black viewers are very conscious of this kind of offensive programming, but rarely feel that they have the power to change anything. "What happens in the African American community is that we'll go on Facebook, complain, and then that's it."
Nevertheless, the special is still scheduled for its springtime air (not to mention prime material for a series, if the ratings are high enough). Oxygen replied to the petition as such:
"Oxygen's one-hour special in development is not meant to be a stereotypical representation of everyday life for any one demographic or cross section of society. It is a look at one unique family and their complicated, intertwined life... Oxygen Media's diverse team of creative executives will continue developing the show with this point of view."
G/O Media may get a commission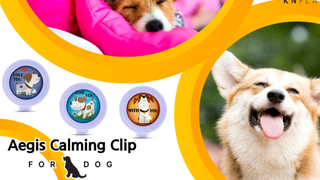 20% off
Aegis Calming Clip for Dogs
'Oxygen Defends 'All My Babies' Mamas' Special, Outraged Viewers Want It Canceled' [Radar Online]