Over the weekend, reports of sexual assault and molestation at two music festivals in Sweden have now culminated in over 50 cases, including five reports of rape. Authorities told the Times they are investigating seven suspects at present, ranging in age from 18 to 35, and that most of those assaulted were under 18.
Ana Gasteyer Satirizes the Girl Boss in 'American Auto'
At Putti i Parken, a festival in Karlstad focusing mostly on Swedish acts, a total of 32 sexual assaults were reported, most of them groping but none of them rapes, including a groping victim who was 12. All seven of the suspects, whom police declined to identify, were in Karlstad.
At the larger Bravalla Festival in Norrköping, which hosted international acts like Mumford & Sons, Macklemore and Afrojack, five alleged rapes were reported, as well as multiple sexual assaults.
G/O Media may get a commission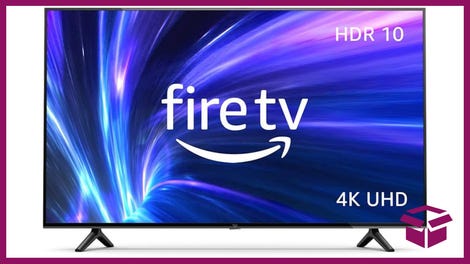 42% Off
Amazon Fire TV 50" 4K Smart TV
Lisen Andréasson Florman, one of the women who filed a report, spoke about her ordeal with the Daily Mail, saying that while she was watching music at Bravalla, three men approached her and allegedly groped her:
They were much taller than me and started hugging me even though I did not want them to. Then they started grabbing my breasts very roughly.

'I felt so small and vulnerable. It was as though I sank down in to the ground. Like there was nothing I could do and I was in their possession. I had felt safe, proud and strong up until that moment, but now it was all gone.

They were much taller than me and started hugging me even though I did not want them to. Then they started grabbing my breasts very roughly.

'I kept asking them to stop, but they only left after my colleagues saw that something was wrong and came up to me.'
Following the weekend's reports, Swedish Prime Minister Stefan Löfven called for better policing, saying that the country must "continue to ensure that police, prosecutors and other officials are better equipped to investigate such crimes and actually catch the perpetrators."

But Swedish police are still under scrutiny for an alleged mishandling and cover-up of sexual assaults at music festivals in 2014 and 2015, with the suspected reasoning that, following sexual assaults in Cologne allegedly at the hands of immigrants, the police were hoping to avoid generalized anti-immigrant backlash. The New York Times reported in January:

David Brax, a researcher of hate crimes at the University of Goteborg, said by phone that the accusations would help agitate an already intensifying backlash toward immigrants as countries across Europe were grappling with fears that terrorists and criminals were seeking to enter the Continent by masquerading as refugees.

He noted that the police might have hesitated to publicize the assaults for fear of stoking revenge attacks against immigrants.
The police told the Times that six of the seven men are "foreigners," but did not specify whether they were immigrants or their countries of origin, and the Guardian points out that police in Varmland, near the Putti i Parken festival site, posted and then took down a statement that said "There is no doubt about who takes these liberties":
The police later admitted that only two of the seven men or boys arrested for the Putte i Parken incidents were from HVB homes – residential homes for young people, often refugees without parents. There's even less evidence to suggest the rapes at Bravalla were carried out by immigrants – but the two were instantly lumped together. "The wording was unfortunate," read a second statement, "and we will take that to heart."
Sweden has some of the highest numbers of reported rapes in the world but, as followers of the Julian Assange case know, what the law defines as rape is broader than the working definitions in most other European countries as well as in North America. The country also has more specific reporting guidelines in the service of gathering accurate statistics to benefit those who are assaulted.