Accompanying our festival fashion fatigue is the exhausting proliferation of street style photos that accompany/perpetuate it: endless galleries of conventionally pretty, skinny girls clad in similar fringe or slides or whatever else happens to be on trend that season. With few exceptions—Bill Cunningham at the Times, YoungJun Koo at The Cut among them—street style photographers tend to shoot for sameness, and it gets to be a lot.
Ever in search of something that sparks our creative minds, we noticed a trend at Governors Ball, the music festival held on New York City's Randalls Island this weekend. It was the trend of adult males—some of them emitting traditionally bro-y vapors but all of them very nice—fulfilling our youth dreams of dressing exactly like our BFFs, outwardly professing our friendship unity by outfitting like a team. Some of them, as the friends above, were simply costuming for the sake of it (they aren't real lifeguards, said the gentleman on the right, but they are certified in CPR and can legally give "mouth to mouth" if necessary). Others were expressing their solidarity with some of our country's most accomplished basketball players. Still others were rolling solo with a flair that could not be duplicated. All were sublime, and outstanding.
I love these guys' freedom with mixing and matching brands; it's very high-low (Corona to Colt 45).
G/O Media may get a commission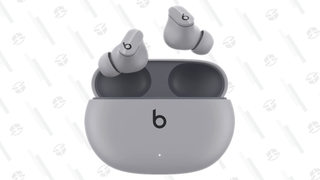 At our last festival experience, we made a plea for the proliferation of the V. Stiviano visor. As if by magic, two doctors emerged from our dreams and materialized in a field during a Flume set.
The pals at left were wearing matching inflatable sea creature hats and were two of the happiest dudes we met—as was the guy in the middle, who was getting his life during A-Trak's set and wearing crocheted unicorn headgear. At right, this trio of besties looked great in complimentary tropical shirts and contrasting hats. They, too, were jamming to A-Trak.
This gentleman joked that his hat was in fact a hairstyle, and gave me a mild existential crisis.
I chased these pals as they were walking to the Port-a-Potties and waited for them to pee so I could snap their 'fits. They were concerned that it might not be okay to have their beer in the photo. What kind of monster would ask them to put down their beers? Guy on the left brought his own koozie, for god's sake.
Yes.
---
Contact the author at julianne@jezebel.com.
Images by Ellie Shechet & Julianne Escobedo Shepherd.