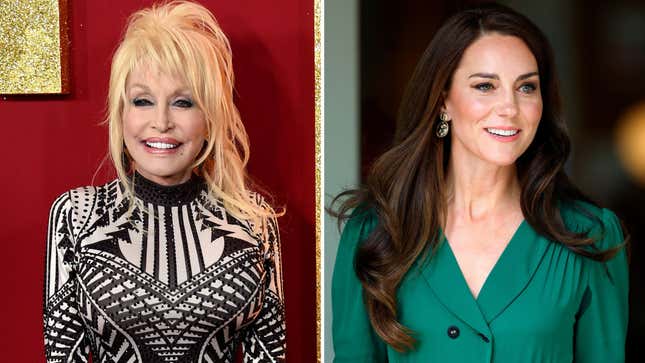 Release the royal experts from the cages they're kept in when they're not providing comments to British tabloids about Kate Middleton and Meghan Markle, for there's been a snub in the House of Windsor! And while this one does involve Kate, Meghan is far away in the foothills of Montecito...either getting or not getting a divorce.
The other actor in this royal debacle is nobility, but not of the British or even European kind. Dolly Parton, Queen of Country, ruler of Tennessee's corner of Appalachia, turned down an invitation to tea with Kate Middleton while she was in London promoting her upcoming album, Rockstar. "This time, Lordy, I even got invited to have tea with Kate but I couldn't even go," Parton told BBC Radio 2.
"I thought it was very sweet and nice of her to invite me and one of these days I'm going to get to do that–that would be great," she explained, citing her schedule as the reason they couldn't meet. She also joked that Middleton "wasn't going to promote my rock album so I had to say no."
Mmm, Queen of Country and queen of a good snarky comeback. I'm tempted to make a dig at Kate and suggest the two wouldn't have much to talk about but I have a feeling Dolly can make pleasant conversation with a door knob. Plus, I can't really knock Kate for wanting to spend an afternoon chatting with the singer. Imagine the shock one's system would undergo shifting between interacting with Prince William and then Dolly Parton. Must be a thrill!
In 1977, when Dolly got to perform for and meet Queen Elizabeth, she told the Glasgow Times that it was "just one of the biggest thrills of my life." I imagine it was one of the Queen's as well.