Remember Students for Trump, the group of ambitious young students who, during the 2016 campaign, promoted their love of the now-president with photos of themselves wearing bikinis and MAGA hats along with coordinated events like the Chalkening, where young bigots covered their campuses with messages like "stop Islam" and "build the wall"? Well, it turns out that John Lambert, one of the co-founders of this prestigious group, might be going to jail. Turns out he's a bad person and a scam artist!

Politico reports that in 2016, in the midst of the Trump campaign and while still an undergraduate student, Lambert and an unnamed co-conspirator (who apparently turned on him and squealed to federal authorities) allegedly started an online scam where he pretended to be an attorney named "Eric Pope," and proceeded to bilk his "clients" out of tens of thousands of dollars.
More from Politico:
At some point, prosecutors say, Lambert created a website for a fictional New York law firm, Pope & Dunn. The fake firm's slick site lists an address in New York's financial district and declares, "Pope & Dunn have been known as a leading firm for innovation and traditional efficiency for decades." It also lists a stable of fake attorneys with credentials from top schools. Like the real Donald Trump, the fake Eric Pope attended the Wharton School at the University of Pennsylvania. Pope also attended New York University's law school, the website claims, boasting, "He is sought after for his experience with financial and corporate matters due to his ability to mitigate legal scenarios while keeping the growth of his clients' business a focal point."

Lambert then began landing actual clients, including one who used their retirement savings to hire "Eric Pope":
Around the summer of 2017, Lambert allegedly landed a client who was having problems with a credit reporting agency. Over the next several months, the government says, the client drained their retirement savings account to pay Lambert fees totaling more than $10,000, only to have Lambert stop responding to the client's emails. Another dupe allegedly paid Lambert $1,500 for help drafting a will. Lambert also allegedly bilked money from an accountant working on behalf of an IT company in Texas, from a skin-care company and from a printing company. All told, the government says, the PayPal account used by Lambert in the scheme took in more than $50,000.
G/O Media may get a commission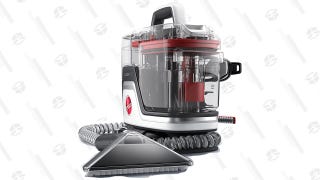 Save $10
Hoover CleanSlate Plus Carpet & Upholstery Cleaner
The now 23-year-old was perhaps inspired by his love of The Wolf of Wall Street, a movie that Lambert's friends remember him "voraciously watching" while in high school. "It motivated him," a friend of Lambert's told Politico. It clearly did, though I think he might have taken away the wrong lesson from the movie.
In April of this year, Lambert was arrested and indicted for wire fraud and conspiracy to commit wire fraud. If he's found guilty, he could face up to 20 years in prison for each charge. Unfortunately, he now needs a real lawyer. Where's Eric Pope when you need him?