Some of those watching the Oscars on Sunday night had complaints about the In Memoriam segment, which commemorates the lives of those who worked in the industry who died the previous year. There were those who were upset that Cory Monteith wasn't included, and others who remarked that Harold Ramis didn't have a long enough moment.
Others were more concerned with Sarah Jones, whose name was added at the end of the segment in a tagline that went across the screen for at-home audiences. It said: "Sarah Jones: Complete In Memoriam gallery at Oscar.com." Why did Jones – who wasn't famous the way Monteith or Ramis were – get this special treatment?
Sarah Jones was a 27-year-old camera assistant working on the new Gregg Allman movie Midnight Rider when she was killed by a train during filming in Georgia a few weeks ago. According to Variety, two trains were expected to pass along the tracks during filming, but a third came along:
A whistle warned the crew members of the next train, giving them less than a minute, which was too late.

Miller, who also directed the 2008 film "Bottle Shock," and the still photographer rushed to get the bed off the tracks while the rest of the crew tried to get off the bridge on a plank walk-way. They were still trying to get off the bridge when the train arrived.The second camera assistant was then struck and killed by the train.
Miller had fallen onto the tracks before the train arrived but the still photographer pulled him off, according to the witness, saving his life. The bed was then hit by the train and exploded. That debris hit and injured several people, including one seriously, who was airlifted to Savannah's Memorial Health University Medical Center.
G/O Media may get a commission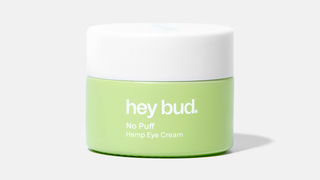 15% off
Hey Bud - No Puff Hemp Eye Cream
Reports indicate that Jones was struck by the bed debris and thrown towards the train. Four others were also injured, one seriously so.
Jones had previously worked on The Vampire Diaries and was liked and respected in the film community. A Facebook page called Slates for Sarah was started after she died. Since her death, crew members on various productions have added her name on to their clapboards as an homage.
Her death also spoke to those who didn't know her but who are concerned about safety regulations in the industry. Some believe the accident was wholly the fault of the producers of the film, as Drew Duncan, a set designer and illustrator, wrote on his blog:
We all hold the strong suspicion that she died due to some very bad decisions made by the people producing the film, but that suspicion has not been confirmed by criminal investigators (not yet, anyway).
Duncan went on to describe a conversation he had with a friend and camera operator where they discussed how "crews often operate on faith and don't verify the safety of their working conditions, particularly on low budget shows."
"[Sarah Jones] is any one of us," they concluded.
While Gregg Allman wrote that he was "terribly saddened" by the "tragedy" that is Jones's death, there has been suspicion that others working on the movie don't see it that way. Page Six's Richard Johnson reported this weekend that executive producer Nick Gant was a little more casual about the whole thing on Facebook:
I didn't see Gant's post, but a source who did said, "He wrote that young women die of a lot of things. He linked to a Huffington Post article about a woman dying after a bikini wax. So many people told him how sick and stupid it was that he took it down within an hour."
In a statement to Variety, Gant said that "no corners were cut" in the making of the film. That's being refuted by the train company involved in the accident, who say the filmmakers did not have permission to be shooting on the tracks. The incident report on the accident reveals that, when asked whether the crew was allowed to be filming there, another producer on the film said that it was "complicated." Gant has rebuffed those allegations as well:
"We are spending too much time trying to place blame on a horrific accident," Gant added. "Sarah's actions probably saved other peoples lives. The crew, our families and our community are very tight. We are able to hand select who we are going to spend long days and weeks together. Sarah and every crew member were friends, family and professionals at what they did. We need to celebrate their accomplishments, their lives and support their families as we move forward."
Because of suspicions regarding the safety of the set Jones was working on, friends and supporters of hers were even more serious about getting the Academy to include her in the In Memoriam segment. There was also a campaign to get attendees to wear black ribbons in her honor. Though no big stars were seen wearing the ribbon, Chris Munro, who won for Sound Mixing for Gravity, was spotted with one (seen below), as was director Malcolm Clarke, who won for Best Short Documentary, and editor Mark Sanger.
Though Jones wasn't actually in the In Memoriam segment, the Academy posted a special tribute to her on their website, after indicating that they'd do so on screen during the awards. It's unclear if anyone in the audience at the Oscars saw that message. Most of the comments on the online gallery she's in are about her as well. CNN called what her supporters got the Academy to do "the near impossible," but as they reported, it was really more improbable that the Academy would have made this change. Oscar producers, though inundated with requests for people who should be included in the segment, can't do anything about it; it's the Academy that decides who makes the cut. In truth, on a night when only the most visible faces are celebrated, giving Jones her own shout-out was the only way to placate a large mass of unionized workers over their valid concerns about the safety standards of their industry.
Jones's memorial was also held Sunday; The Hollywood Reporter noted that 700 people attended it. At the service, IATSE Local 600 union leader Bruce Doering said the union's annual scholarship would be renamed for Jones.
"Since this terrible accident happened, we're trying to figure out how this happened and we're committed to taking the issue of unsafe conditions as far as we can take it — and like Sarah — full-on," he said. The investigation into the accident is still ongoing.