Perhaps you have noticed that there are photos on the internet of Orlando Bloom and Katy Perry enjoying some beach activities in Italy, and that Orlando Bloom is naked. There are many emotions to feel about this, and I'm sure that, between us, all of them have been felt.

What's been bothering me, though, since I first saw these photographs when some person put them in my Twitter feed and not because I googled them at all, is the question of what the purpose of paddleboarding without clothes might be, if there were a purpose other than just wanting to be naked.
I am a paddleboarding dilettante, insofar that I have never done it and don't really want to, but have a sudden inkling to learn more about it. I recently watched NY1 anchor Matt McClure try it out in a large standing pool and thought it was a good segment, but on the whole it seems inferior to other water-based activities like windsurfing, which is an Olympic sport, or paddleboating, which is a fun thing to do with a friend.
I reached out to Orlando Bloom's publicist to ask why, exactly, he might have been paddleboarding naked—if it was for a specific purpose, or if he just wanted to feel unencumbered by clothing. She has not yet responded to my request. I also reached out to the publicist of Laird Hamilton, a multitalented water-based athlete widely known for popularizing paddleboarding and paddlesurfing, and who once famously posed naked on a paddleboard for ESPN's body issue with his wife Gabrielle Reece. I have not heard back, but will update if I do.
I reached out to the staff of Deadspin dot com, who were verily forced to comment because I had invaded their Slack channel and I could see if they were avoiding my request in real time. There, I found the sports blogger Patrick Redford, an active paddleboarder, who was willing to explain some of the purposes one might paddleboard in the buff. Potential reasons:
1. "Tanning purposes"
2 . "You also get pretty hot while paddling." (I'll say!!!!!!!!)
Redford also offered a thought about Bloom's stance, something that I admit I hadn't thought about:
"I get seasick while paddling and when I do, I go on my knees for a while, so maybe that's why he was kneeling."
G/O Media may get a commission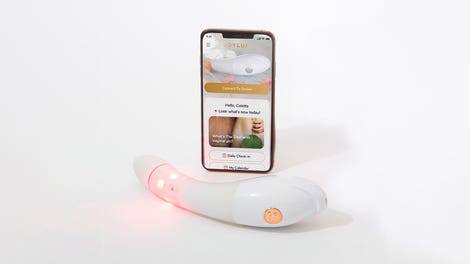 $50 Off
Joylux vFit Gold Device
I then wondered whether there is actually a subculture of naked paddleboarding, and perhaps this act was simply Orlando Bloom being part of that subculture. And, in fact, there is!
Paddleboarding is a quite well organized sport, boasting a World Paddle Association and a Professional Standup Paddle Association and a Stand Up Paddle Industry Association, among others. Something so popular would, of course, encourage subsets of that—which brings us to Nomadic Stand Up Paddleboard in Key West, Florida, which offers both nude paddleboarding tours and also a "clothing-optional" paddleboard race.
Passport interviewed Nomadic SUP owner Cody White about the "G-rated" naked paddleboard tours his company offers. He stated:
When we came down to Florida we wouldn't see people for hours, and we were just inclined [to be naked] because we're naturalists so we paddleboarded naked and had a great time and we mentioned it to some friends and they said: "oh, my gosh that would be so much fun, we'd love to do it." We said: "okay come out next time." They came out, and we realized other people might want to do this so then we started offering it on the tour. It's one of our most popular tours because most people haven't tried standup paddleboarding and they certainly haven't tried it naked. Once people get past the idea of, "oh, everybody's going to see me naked," everybody's natural, everybody's comfortable, it's really a serene experience.
Comfort and serenity seem like the most likely options in this scenario for Orlando Bloom who, as an in-demand Hollywood actor whose girlfriend is about to open the Olympics tonight, seems like he often has a lot on his plate. Kudos to all who engage in the naturalist lifestyle, like Justin Bieber!