The Women's Law Project filed a suit in 2002 against Penn State for their violation of Title IX, after the woman who accused Birth of a Nation director Nate Parker of rape faced harassment on campus. The woman died by suicide in 2012.
The WLP released a statement on Monday regarding the case, explaining they have remained silent until now largely out of respect for their client. They say, however, that it has now become important to address their client's objectives when working with the WLP.
In 1999, Parker and his fellow classmate and wrestler Jean Celestin were charged with sexually assaulting an unconscious woman in an off-campus apartment. Celestin was convicted, but the conviction was later overturned because prosecutors had difficulty getting the victim to testify again. The case went in the men's favor, and the WLP condemns the language and attitudes around rape that made her testimony about having previously had consensual sex with the plaintiff relevant:
In 2002, the Women's Law Project represented a young woman in a complaint charging Penn State University with violating Title IX by failing to properly respond to the harassment to which she was subjected after she filed complaints to the police and the school alleging she was raped by PSU wrestlers Nate Parker and Jean Celestin. This woman's family has eloquently conveyed the impact the experience and subsequent harassment to which she was subjected had on our client. As is now known, she tragically died in 2012. We chose to refrain from participating in the public dissection of the case out of respect for the privacy of our client who, throughout our representation, requested anonymity...

First, we will address sexual assault laws. Our sex crime laws need to be updated and stripped of archaic notions about sexual assault such as those that impose, by word or practice, perpetual consent based on previous sexual relationships. The criminal justice system must free itself of pervasive bias and victim-blaming.
They also mention that the victim received a monetary payment as part of a settlement with Penn State, and that the settlement also included the appointment of an independent panel to review Penn State's policies around sexual assault on campus.
They finish by quoting their client from a statement made in 2004, in which she said, "A victim should not have to worry about harassment, safety, classes, and finances after she has experienced and reported a heinous crime... If victims feel protected, more will come forward, and perpetrators will learn that their behavior will not be tolerated."
G/O Media may get a commission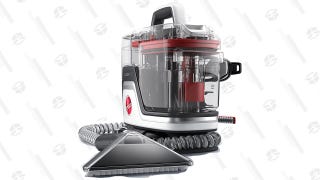 Save $10
Hoover CleanSlate Plus Carpet & Upholstery Cleaner
Meanwhile, Variety published an interview with Parker on Tuesday with a lengthy introduction, in which they quote two anonymous black directors who seem suspicious of the timing surrounding Parker's case resurfacing. They write:
Some prominent members of black Hollywood are standing with Parker, but they haven't backed him publicly yet. "I don't like the timing of this," says one well-known black director, who asked not to be named. "I'm not defending his actions, but something is wrong about the way it went down." Another black director who knows Parker, but also requested anonymity, said: "It worries me that a film and a guy with so much promise gets cut down a month before his masterpiece gets released. The last two years have proven how much our stories matter to this industry, and this seems like a way to muffle a very important piece of work."
They also mention how Parker has begun to downplay Celestin's role in the film, though he originally credited him as a co-writer on Birth of Nation. When pressed on Celestin's involvement, he said, "I wrote the screenplay by myself... I just did a lot of research. I hired a lot of people. I had researchers. I had all kinds of people. I just wanted people to feel whole."