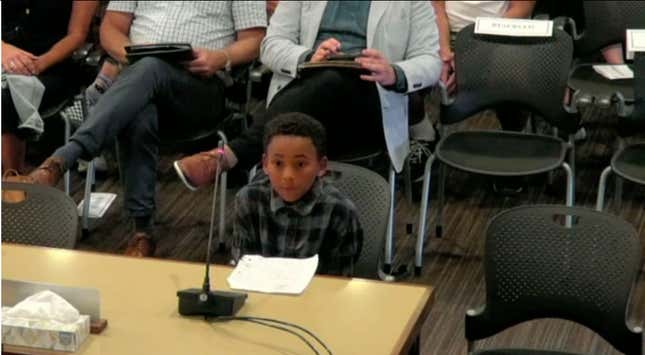 A 10-year-old boy named Gavin in Redmond, Oregon, testified at a city council meeting this week that had been convened after Mayor Ed Fitch found a dead raccoon at his door earlier this month. Fitch told The Washington Post the carcass came with a note that specifically called out Clifford Evelyn, Redmond's first and only Black city councilman, and contained "intimidating" language.
Evelyn said at the council meeting Tuesday that the "cowardly act" was "something out of the 1950s and '60s," and various other members of the community stepped up to speak out on the incident. Then Gavin, a local 4th grader, took the floor at the open mic and stunned the room.
"Why should us Black people suffer from racism when there are other races doing murders and [robberies] when us Black people are showing respect and [are] kind, but we still get treated like crap," Gavin said. "We should not have to get treated like this."
Gavin then shared a heartbreaking personal anecdote of his own experience with racism. "One girl said to me, 'I would hit you, but that's called animal abuse,'" he recounted. "We should not get treated like this. We should get treated equally. This is not fair to us Black people."
Mayor Fitch told the Daily Beast in a statement that Gavin is an "impressive person" to speak so candidly about his trauma on behalf of civil rights. "I can only imagine that it took a lot of guts to speak at the city council meeting," he said. The outlet reported that Gavin's words "shook the room into unprecedented applause."
The Redmond police are still searching for whoever dropped the dead raccoon and threatening racist note at the mayor's door. But that brave little boy's testimony is certainly going to haunt a lot of people for a long time.