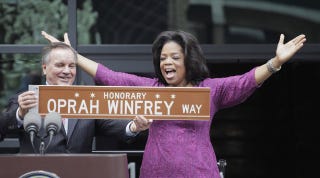 I don't know how you've been spending your nights, but many of us have been hovered over our computers waiting for news of the premiere date for "Oprah's Next Chapter," the cable successor to her syndicated talk show. I can't say I'm part of that many, but I know the many exists.
If you are part of the many, you'll be pleased to know that Oprah's new show will start in prime time on January 1st —which is easy enough to remember, at least— on her cable channel, OWN.
The show is said to feature interviews with "newsmakers, celebrities, thought leaders and real-life families." They already have interviews with Joel Osteen, Tony Robbins, Deepak Chopra, Sean Penn, George Lucas and Paula Deen.
AND if that's not enough to get you excited about it, you should know that on this show, they're no longer sitting in chairs. Who even does that anymore? Ms. Winfrey says:
"We're not sitting on 'The Oprah Winfrey Show' in those chairs anymore, people."
But what will they hide the cash and prizes underneath????
Oprah Winfrey's Show Has a Premiere Date [NYTimes]