Megyn Kelly makes her much-anticipated (by me, at least) debut on Today next week, and NBC is pulling out all the stops to make her seem as pleasant and chill as everyone else on the network's struggling morning show. Unsurprisingly, it's not quite working.
From the moment rumors began circulating that Kelly's contract with NBC included not just a primetime news program in the vein of The Kelly File, but a full hour during Today, I've struggled to imagine her participating in the mindless banter that makes a morning show a morning show. There is almost nothing about Megyn Kelly—a woman whose fame skyrocketed over the past two years due to a feud with Donald Trump over his misogynistic behavior, confrontations with Republican politicians on the typically GOP-friendly Fox News, and allegations that she was sexually harrassed by former boss Roger Ailes—that suggests she would fit in with a crew of charmingly dopey early risers whose job requirements include giving softball interviews to people like Gwen Stefani, laughing at Al Roker's dad jokes, sitting next to Matt Lauer without starting a fight, and pretending to be excited by hideous macrame planters.
NBC must have expected this, as they are in the middle of a last-ditch, four-step effort to make their big investment a big success. This, my friends, is Operation Make Megyn Kelly Relatable.
---
Step 1: Book Reliable Guests For Her First Show
I don't know what exactly to expect structure- and format-wise from Megyn Kelly Today when it premieres on Monday, but I do know her first celebrity guests are a quartet of personalities so big and universally regarded as "funny" that it won't be hard for her to make the segment at least marginally entertaining. Yes, NBC is starting off with a synergistic bang by booking the cast of Will & Grace.
G/O Media may get a commission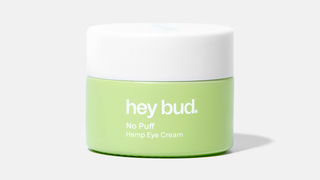 15% off
Hey Bud - No Puff Hemp Eye Cream
Even if Kelly bombs, Megan Mullally will be worth watching.
Step 2: Put Her On Ellen
While it lacks Oprah's ability to change hearts and minds on just about any topic its host was willing to speak about—from books to beef to Presidential candidates—Ellen is quite good at moving the needle of a celebrity's reputation from neutral to pretty good. She's not necessarily going to make every famous person stan-worthy, but she'll make them more charming than you had ever considered before.
Enter: Megyn Kelly in a "giant sumo suit."
Step 3: Propaganda
There is no way around it: icebreakers are terrible. From the ones where you have to meet people in small groups and tell them your favorite movie/TV show/book to the large office-wide attempts at fun and games like two truths and a lie, no version of an icebreaker is a good time for anyone involved. Ever! It's impossible. There is no more unpleasant way of getting to know someone than by having that knowledge forced on you, unprompted—especially as an adult.
Imagine attending a mandatory staff meeting at your job and watching your new boss wheel out a TV on a cart, shoving a VHS tape into the VCR, and clicking play on a self-produced video biography. These are worse than that.
Her list? Judge Judy, Oprah, Amy Poehler, Winston Churchill, Katherine Hepburn, and Muhammad Ali. "Bad ass," she says of Hepburn. "Can I say bad ass?" Help, my skin is crawling.
Those four things are: she's late "for everything," she's not good at responding to messages, she doesn't like to plan, and she's "kinda messy." The most fascinating thing about this particular video is that her uncomfortable, wooden delivery—during which she's in a comfy looking tee and petting an adorable dog—is immediately followed by the OG Today crew discussing those same four things in the way they should have been discussed on morning television—with laughter, enjoyable commentary, and a palpable sense of fun.
Just...watch.
Step 4: Get Hoda and Kathie Lee Involved
I have a suspicion that somewhere on the walls of 30 Rock you'll find a needlepoint that reads, "When all else fails, call Hoda and Kathie Lee." If they can't make something charming—or at least so bonkers you can't help but tune in—no one at Today can.
Unfortunately their efforts to turn Megyn Kelly into someone you watch to watch on a daily basis are, like everything else in Operation Make Megyn Kelly Likable, embarrassing failures. Every day this week the two pals have been sharing fun facts about Kelly on during their hour of the show, and lemme tell ya, they make Siri seem like Truman Capote.
Of Kelly's #1 pet peeve, Gifford says, "That's not really what I think of as a pet peeve."

"Well maybe she doesn't have any," responds Kotb, in an admirable attempt to excuse Kelly's bizarre response.
"Okay, good for her," says Gifford, abruptly ending the segment.
In the background, laughter from crew members—though barely audible—could almost be a siren.