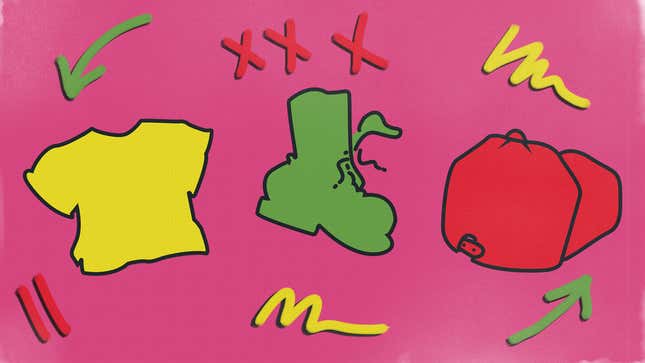 TLC touched down at the tail end of 1991 in a neon blaze, and it took a minute for people's eyes to adjust. The trio's debut single, "Ain't 2 Proud 2 Beg," was released November 22, 1991, and though it was a hit, it wouldn't reach its peak on the Billboard Hot 100 (No. 6) until a full five months later. There was a lot to take in.

The video for "Ain't 2 Proud" presented three young women in their 20s—they lamented in interviews that many viewers initially mistook them as underage—wearing condoms on their clothing and glasses and sex-positivity on their sleeves. They had names that read as absurd on first blush, if you could even figure out that the chyrons throughout the video were referring to their monikers—T-Boz, Left Eye, and Chilli. Each had a distinct musical role, immediately bucking conventional wisdom as to how a group of female recording artists were to carry themselves (in short: wrapped in harmony as tight as their dresses).
They were draped in colors—bold colors, fluorescent colors, Cross Colours. If they could be considered as swimming in the oversize clothing they sported, well, it was an Olympic display. Moving in syncopated grace, they had utter mastery of the yards of fabric they carried on themselves.
Their song couldn't be further from the Temptations song it shared its name with. "Ain't 2 Proud 2 Beg" was a sonic assault—a cacophonous approach to the New Jack Swing style Teddy Riley pioneered, which had been taking up airspace for years on R&B (and, increasingly, pop) radio at that point. Then-newcomer songwriter/producer Dallas Austin created a dense wall of sound for this track out of no fewer than seven samples of existing songs by the likes of James Brown, Kool & the Gang, and Sly and the Family Stone.
But the more you watched, the more it made sense, the more it became clear how exciting what we were witnessing was. While TLC would go on to make more sleek and serious music and produce videos that bore little resemblance to the tantrum-meets-recess-meets-rave aesthetic of their early clips, no one single of theirs would crystallize the makeup and talents of the group in the way that "Ain't 2 Proud 2 Beg" did. You had Tionne "T-Boz" Watkins laying the foundation with her gravely voice in the verses (the group would refer to her offering as "the funk" in interviews), Rozonda "Chilli" Thomas delivering aching melisma that turned every bridge into a plea (the "straight R&B"), and Lisa "Left Eye" Lopes rapping the chorus that established her as far too insatiable to be a size queen ("If I need it in the morning or the middle of the night / I ain't too proud to beg, no! / If the lovin' is strong then he got it goin' on and / I ain't too proud to beg, no! / Two inches or a yard, rock hard or if it's saggin'..."). Decades of black music and its traditions were busting out of the song's seams.
Yet TLC was like nothing you'd seen before—the best comparison people could muster, according to interviews with the group at the time of their emergence, was Bell Biv Devoe—but soon enough, you wondered what New Jack Swing ever did without them. Within months they were stars, intelligible to the masses thanks in part to their clear thesis: your liberation is in your hands. In words, actions, and fashion the group encouraged their listeners to reject societal expectations, embrace individuality, demand what you want, and have a great fucking time in the process. "Ain't 2 Proud 2 Beg," kicked off what would turn out to be an album-long exploration of these themes, Ooooooohhh... On the TLC Tip, which was released February 25, 1992, and turns 25 this weekend.

Responsibility was embedded in TLC's ethos. Using their public platform not just for fame's sake, they aimed to actually say something in virtually all of their songs—only a few of Ooooooohhh... On the TLC Tip's 15 tracks aren't at least matter-of-factly political in some respect. Often, these messages weren't being said elsewhere in pop (though hip-hop, especially from women like Queen Latifah and MC Lyte, tended to be more socially conscious than it is today). That their debut went on to be certified quadruple platinum while being so defiantly outspoken is as astonishing as it is heartening, in retrospect.
In terms of subject matter, female independence was at the forefront of TLC's collective mind (there are songs on TLC Tip titled "Bad by Myself" and "Depend on Myself"). They told of society's tendency to defer to men's side in he said/she said matters ("His Story," which was dedicated to Tawana Brawley) and about doing everything in your power to beat men at their game ("Shock Dat Monkey").
There was a sense of self-affirmation even when things slowed down and got romantic—the ballad with knock "Baby-Baby-Baby," in its repeated reminder that Chilli and eventually T-Boz could have any man they wanted to but still they chose their object of desire, implied that love for oneself strengthens the value of your love for another. (Beyoncé touched upon this very point, albeit in a different context, in a highlight of her self-titled 2013 album's "Rocket.") "What About Your Friends," the album's third single and another Top 10 hit, is the rare track without political undertones—but its place on an album glued together by its group members' chemistry and camaraderie gives it an unexpected tension and considerable heft.
In interviews TLC acknowledged that they were setting examples for the public. As Left Eye told The Toronto Star in 1992:
We're consciously working at being role models. There aren't enough positive ones out there. Not just for young black women, but for all women. Because you guys are still running everything, still making the rules about what a woman can and cannot do and that's not fair. TLC are three strong, independent black women who know what they want and go about working to get it. Women have to get with being positive about themselves. They have to become more open-minded about what's possible for them. Sure, male society tries to channel women into certain areas, but you don't necessarily have to go with that. You look for positive options to do what you want to do. You have to do what makes you happy because if you aren't happy in yourself, how can you get into make someone else happy?
It might all have seemed like talk if their work weren't marked by evident pragmatism. TLC preached individuality, and they all stuck out—from each other, given their distinct roles, and collectively from other girl groups, who'd in pop music largely been defined by their investment in making pretty music by blending their voices. "We don't do harmony," Left Eye told USA Today. They proudly rocked baseball caps and baggy clothes, refusing to conform to the idea of how women should present themselves in public, especially women who were so unapologetic about enjoying sex. They showed and told as much in "Hat 2 Da Back," the kind of manifesto that pop listeners could understand as it explicated how the group's style reflected its members' substance. "Nobody can make me do what I don't want to," "I'll never change for you," "You better believe I'll do what pleases me," and "I think my way is cool," are just some of the lines T-Boz sang in a track about sagging pants and backwards ball caps.
Unlike celebrities that came before and especially since, TLC never sounded pretentious or full of shit when discussing their philosophies and art, as green as they were. "We're not trying to be anyone's sex object," T-Boz told the Chicago Tribune. "We're having fun, getting comfortable and dancing." To USA Today she said, "We stand up for those girls who always wanted to dress like this, but couldn't. We ain't showing a stitch of skin and we made it."
The only inconsistency I could find in their promotional interviews from that time came regarding other women's style. "We're not telling people to dress like we dress, or that wearing tight clothes is wrong," Chilli told The Washington Post. Well, except on Ooooooohhh... On the TLC Tip's fourth track, the spoken "Intermission I," the group collectively mocks a woman that an unnamed man praises for wearing tight jeans by saying she looks "very wrong" and "real nasty, stank." They conclude by interpolating the Shower to Shower jingle, prescribing the woman be sprinkled with "ho remover." It's a weird rift in the group's egalitarian philosophy—at least it's brief, as the interlude runs under 20 seconds.
Perhaps similarly dissonant was their tendency to deny being feminists, even though their belief in women's innate equality to men is as glaring as any the dozens of day-glo garments they collectively sported throughout their first string of videos. It's that their explanation was so rooted in the expectations and stigmas of the era. "We are not feminists," Chilli told USA Today. "We love our men." "We're not hardcore feminists," is how Left Eye put it to the Los Angeles Times. "We like men and we like to have fun with them. But we also want men to think about females in different ways."
The discord between TLC's feminism and disavowal of the "feminist" label may have been a product of the 1992's fraught mainstream discourse regarding how much power women should be afforded. That year would eventually be christened the Year of the Woman thanks to the election of several female senators, but the rise of feminism's third wave would be met with mockery and denial by right-wing pundits like Rush Limbaugh. One of Limbaugh's favorite refrains was "feminazi"—it was catchy enough to work as an unofficial marketing campaign to color feminists as man-haters. What Limbaugh and his ilk preached seemed to be exactly the toxic thinking that TLC existed to oppose.
It could have been an age thing, too—at the time of Ooooooohhh... On the TLC Tip's release, none of them were over 21. I interviewed Chilli years later when I worked at VH1 before her reality show What Chilli Wants debuted in 2010. I asked if she thought of TLC as feminist and she said that she did without hesitation or caveat. You know what they say about hindsight.
In any event, by the time TLC were appearing on the cover of the November 1994 issue of Vibe, they were cited in Joan Morgan's accompanying article as having "led the first wave of b-girl feminism" and "cultivating a new strain of black-girl feminism for a generation of young women whose day-to-day reality bears little relation to the doctrines of women's studies classes." How that squared with the fact that the majority of their words (and on-record messaging) were being written by men (like the aforementioned Austin, Jermaine Dupri, and L.A. Reid and Babyface, who also ran the label that had signed TLC, LaFace) was also explained in Morgan's piece:
"It's my job as a producer to get inside and pull out what's there," said Austin. "A lot of times, an artist isn't aware of what's inside. I've got to make them aware of the sides that people wouldn't be checkin' for…I can't add anything that's not already there." On BET's Video LP, Left Eye explained that Austin would write for the group in front of its members in the studio. "He writes based on what he sees, the kind of vibe we give when we're all together," she said. Again, the lack of pretension and cohesion of the group's messaging in song and interview sold this even if it somewhat betrayed TLC's frequent declarations of independence. Reid described TLC as "a producer's dream" because "you don't have to sit and try to think of everything for TLC. TLC has their own ideas. They have their own thoughts on what they want TLC to be."
The members of TLC met by chance—recent Atlanta transplants T-Boz and Left Eye answered a casting call for a girl group put out by a teenager named Crystal Jones, whom their manager Perri "Pebbles" Reid eventually ousted and replaced with Chilli, an Atlanta native and then a backup dancer for LaFace duo Damian Dame. Their aforementioned producers (as well as hip-hop legend Marley Marl, who helmed two of TLC Tip's more rap-based cuts) crafted them maximalist tracks that swung hard, piled with sounds and samples from recent hip-hop history (that Run-DMC "Aw yeah!" that MC Lyte "Shut the fuck up!") that leapt out at the listener like an aural pop-up book. There was always a sense of the moving parts, the fun of sausage-making, the power in a large group of people coming together with a singular vision to make popular art. TLC weren't just a producer's dream—they were a pop enthusiast's dream. On their iconic Behind the Music episode, Left Eye refers to the group's Ooooooohhh... On the TLC Tip era as containing "the most fun we ever had." Time has done nothing to reduce the palpability of that good time.
All of this fun went down before TLC really blew up and became legends. It was before they hit No. 1 multiple times on the Billboard Hot 100, before they'd release the only album by a girl group to be certified diamond in the U.S., before they won armfuls of Grammys, before they fell out with Pebbles, before they filed for bankruptcy, before Left Eye burned down that house, before she challenged her fellow group mates to an album-off, before her untimely death in 2002.
In 1992, they were kids with such hope, such promise, such zest, such excitement, such idealism. They were infectious, condoms be damned. TLC internalized what would be expected of them as a girl group, said, "Nah," and profited anyway. Listening to Ooooooohhh... On the TLC Tip 25 years later, I can't help but contrast this approach with much of today's fear-driven, status-quo-worshipping pop and think, "Why can't it all be more like TLC?"
This degree of boldness yielding such successful results is rare, and TLC made it look so simple. They say that youth is wasted on the young, but for all of their excess TLC seemed to waste very little. They took up lots of space, they created more. Only kids would be so daring.