Teresa Lewis was executed yesterday — and interestingly, it's only now that the worst details of her crime are getting mainstream coverage.
Newspaper coverage of Lewis's story has until now mostly focused on the controversy over her execution, which many opposed on grounds ranging from her possible intellectual disability to her pill addiction to her alleged manipulation at the hands of her hit men. Now that she's dead, however — by lethal injection last night after a last meal of fried chicken and Dr. Pepper — the media seems to be focusing more on the details of her crime. MSNBC describes her premeditation:
On the night before Halloween in 2002, after she prayed with her husband, Lewis got out of bed, unlocked the door to their mobile home and put the couple's pit bull in a bedroom so the animal wouldn't interfere.

Shallenberger and Fuller came in and shot both men several times with the shotguns Lewis had bought for them.
The Washington Post adds this chilling detail:
After the shooting, Lewis waited about half an hour to call 911. Her stepson, Charles "C.J." Lewis, died quickly. But her husband, Julian Lewis, whose body was riddled with birdshot, was alive and moaning "baby, baby, baby" when police arrived.
G/O Media may get a commission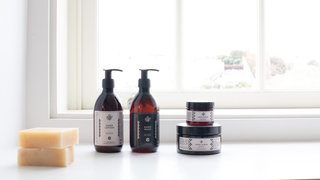 Exfoliate and Hydrate
The Handmade Soap Company
The AP adds some pretty irrelevant information about Lewis's sex life:
Her father said she ran off to get married, then later abandoned her children and ran off with her sister's husband. Then she had an affair with her sister's fiance while at the same time having an affair with another man.
And this relevant, and disturbing, piece of information:
She met at a Walmart with the two men who ultimately killed [her husband] Julian Lewis and his son. Lewis began an affair with Matthew Shallenberger and later had sex with the other triggerman, Rodney Fuller. She also arranged sex with Fuller and her daughter, who was 16, in a parking lot.
Emphasis mine. The fact that Lewis apparently "arranged" sex between one of the hit men and her underage daughter did show up on CBS's Crime Insider blog back in August (although they used the phrase "offered herself and her 16-year-old daughter for sex" — it's not clear what means Lewis used to make this particular assignation happen). But this especially awful detail was left out of much mainstream coverage in the runup to Lewis's execution, most of which painted her in a more sympathetic light. The information about Lewis's daughter, though, changes the moral calculus of the case a bit. It seems less about a basically good person who was roped into a terrible crime, and more about someone who may have been capable of terrible things herself. The question then becomes not, should we execute Teresa Lewis, but should we be executing anyone at all? Unfortunately for Lewis, and for everyone still on death row, America currently answers yes.
Virginia Executes First Woman In Nearly 100 Years [MSNBC]
Teresa Lewis Dies By Lethal Injection, Executed In Virginia Despite Thousands Of Appeals To Save Her [New York Daily News]
Va. Puts Woman To Death; Rare US Female Execution [AP, via Breitbart]
Virginia Executes Teresa Lewis For Role In Slayings Of Husband, Stepson In 2002 [Washington Post]
Earlier: Is Virginia's Death-Row Woman Our Sakineh Ashtiani?
Is Teresa Lewis's Execution A Gender Issue?