I have a mantra when I get dressed in the morning; it starts when I pick up my socks: "May this be the hardest part of my day. May this be the hardest part of my day. May this be the hardest part of my day…" Sometimes it is, usually it's not. How often do you think about it, putting on socks? As someone with a physical disability, socks are the bane of my existence. My ankles are fused, my right toes are crooked.
I have to reach for my foot, then coax it up into my lap, then wrestle with said sock, then repeat. And then there's the matter of shoes. I love clogs, if I can find ones that will cooperate with my wayward toes — no socks needed! I do not love shoes that have parts that go between toes. The persons and companies that invented toe socks and shoes for yoga and running enthusiasts did not consult people with disabilities before launching those wellness products. Trying to separate my toes into that type of shoe sounds like my version of hell. Luckily, shoe designers have embraced the faux look recently. I can now buy "lace-up" boots without needing to thread a single hook or loop. Ah, the (relative) ease of a full-length zipper. I could go on and on about shoes and Cerebral Palsy, but instead I'll point you to Maria Town's blog, CP Shoes.
Getting my body dressed has always been trouble. I remember struggling to be fashionable with overalls in the '90s and stirrup pants in the 80's. It is actually possible to get your foot caught in the wrong strap while putting either of those items on, trust me. In fact, it's rare that I don't have to "redo" something each morning: my left leg has a knack for finding the right side of my jeans. I buy my stockings in pairs because I tug on them too hard in an effort to make sure the steams are straight. Thank the fashion gods for introducing seamless tights and jeggings, the easiest pair of jeans to put on, ever. And now, right now, we all have access to fleece-lined leggings. No more long johns in cold weather or, ugh, leg warmers. (I don't care if they are back in style or not — that's an extra layer and extra round wrestling with my lower half. No thank you.)
There are currently four pairs of fleece-lined leggings in my wardrobe: three black, one burgundy. I have two pairs of jeggings: one capri length and one full. I also own one faux leather pair. (I used to have a pair of real leather pants, with lining. I don't miss the sweat I broke after just showering to put them on to go to the Le Tigre concert.) Also in my closet are several tunic style dresses that are roomy enough to put on easily, say for someone who has a chronic frozen shoulder, but stylish enough to leave the house for a dinner date.
Every body needs to save time in during their morning routine, but people with disabilities use more energy than able-bodied people in general. Saving energy on things like being stylish while still feeling fashionable will not create world peace, but it does make a difference.
G/O Media may get a commission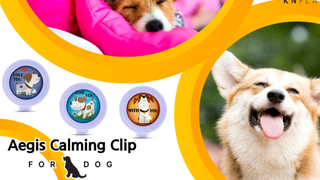 20% off
Aegis Calming Clip for Dogs
I'll end this with a little love note. Thanks to the fashion designers who make current trends truly accessible to everyone who wants to wear them — including those with limited mobility. Some of my favorites are Celeste, Magic Fit, Angele & Ricky, Star Vixen, Voir Voir and Cape Clogs. If I can get through the dressing process and put on four pieces of clothing regardless of the season and still look fabulous, odds are it will be a good day.
Natalie E. Illum is a performance poet, disability activist and storyteller living in Washington, D.C.
Illustration by Tara Jacoby.