In which six overgrown children cram into a van with one drum kit, seven suitcases, three guitars, three cabs, two heads, countless drum machines and pedals, four duffel bags of shirts, six boxes of records, a box of tapes, an unholy amount of ephemera (books, headphones, pillows, Game Boys, smelly shoes, crystals, candles), and one vaporizer to drive down the east coast, playing thirteen shows in fourteen days...
3/16/15: WASHINGTON, DC/The Black Cat
Getting six humans and all of our belongings packed into a van is an exercise in futility; try doing it while double-parked in front of a fire hydrant next to a bus stop. Cue: theme music to "Escape From New York." Predictably, traffic is horrible—not just leaving the city, but for the duration of the drive. Doesn't matter; we haven't toured in the US since August 2014, and we're happy to be out again, doing what we love, together.
Washington, DC has always been extremely friendly to us (in a world where "friendly" is measured against how many kids gleefully maul each other at your shows). The Black Cat is one of the city's best venues: the people who work there are friendly, the menu has healthy vegan options, and the sound is great.
G/O Media may get a commission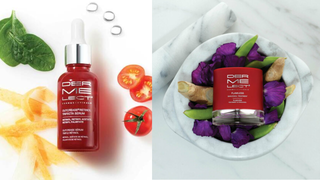 Save $19
Retinol Renewal Kit
Most importantly, it's accessible, which many venues in DC aren't. My good friend Sean Gray, who's joining us on stage tonight for a few songs, runs a website called Is This Venue Accessible where he lists venue accommodations for people with disabilities and mobility issues. He has cerebral palsy and uses a walker, so every time he wants to book a show for his band (Birth) Defects, he first has to make sure he can get in the door.
My good friend Ben shows up and surprises me with a dozen cupcakes from Sticky Fingers. I prove to everyone that I can take a gluten free double chocolate cupcake down in two bites.
The show sold out, which is always a great feeling. Baby Bry Bry and the Apologists (what a mouthful) were bouncy and fun. Then, Skating Polly—my new favorite band—took the stage. They're two young women, aged 15 and 19, who play the coolest, noisiest music ever. Apparently they've been doing this band since the younger of the two members was 10 years old (!!!!).
Sean gets on stage with us to play a few songs, the last of which turns into a ten minute free jazz feelings session. At the end of our set, one of the Skating Polly gals hands me a handmade flower crown, complete with giant rubber grasshopper.
3/17/15: RICHMOND, VA/Strange Matter
In the morning, we head out of the city to Atomic Music, the greatest music store in the world. Tons of used equipment, priced super reasonably. Women often have the problem of being bothered or talked down to in music stores, but I can honestly say I've never met an asshole at Atomic—everyone who works there is cool and kind.
I fall in love at first sight, besotted with a Fender telecaster the color of almond milk, vanilla ice cream, the surface of the moon. I play it for less than five minutes before putting a down payment on it. I've been guitar shopping for months with zero success, and it's been frustrating as hell, but as soon as I saw this guitar, I knew it was The One. The dudes gave me an excellent discount for whatever reason, and put it on layaway for me. I'll be picking it up on our way back when we play Baltimore. What a beautiful day.
The front of Strange Matter is plastered with fliers for amazing upcoming punk shows—we spot a bunch of friends coming through, so we know we'll be welcomed here. Somehow, magically, we weren't late (for once) so we got to soundcheck before doors, which ruled. Strange Matter has an excellent sound system and we got to tweak it until we were happy with every last monitor. We should be on time every day!
Our roadie and BFF Tom used to play this venue back in the day with his band, Attitude, so he had the drop on Panda Garden, the vegetarian restaurant across the street. I had a bowl of hot and sour soup and two spring rolls, he had mock chicken curry (with loads of peppers, mushrooms and carrots), and our bill came out to less than $14 total. Strange Matter has a kitchen, too, and everything on their menu can be made vegan if it isn't already. Lots of great junk food like buffalo 'chicken' sandwiches, mac and cheese, and Field Roast reubens.
The opening band, Men's Room, were fast and heavy. All their songs were basically exercises in finding a riff they really liked and playing it over and over for three minutes. It was funny and charming. Nervous Ticks were absolutely mind-blowing, somewhere between Wall of Voodoo and Crash Course in Science. One of their singers leapt around in a black turtleneck like a modern dancer, shaking maracas with no shortage of violence and grace. Their drummer played standing up. They were super high-energy and sharp at the edges; the crowd went fucking nuts for the duration.
I had way too much coffee before our set (in a pink mug that said IT GIRL, which I gleefully showed to everyone who tried to talk to me). I think I hugged a hundred kids after the show. I stayed for over an hour, just hanging out, talking about everything from queer stuff to schoolwork to Savages.
3/18/15: HARRISONBURG, VA/Clementine's
It was a short, unremarkable haul to Harrisonburg from Richmond. Makes me think of my all-time favorite Tumblr post: " what a day!!!!!!!!!!!!!!!!!!!!!!!!!!!!!!!!!!!!!!!!!! nothing happened and i was tired."
When we pull up to the venue, we see older couples in sport coats filtering in. Apparently Clementine's is a really fancy restaurant; it's hard for us to believe we're in the right place. Turns out Clementine's has taken over where a recently-closed local venue left off, picking up the occasional punk-ish show until its reopening (Waxahatchee will be here in a few weeks). There are legends from the early days of hardcore about rowdy shows happening at totally inappropriate venues—they usually end with Black Flag getting beaten up by cops or whatever. I wonder how we'll go over at a place that serves duck confit ramen.
Turns out Harrisonburg has a remarkably tight local scene (unsurprising—being from a small town myself, I should have known that when weirdo bands come in from out of town, kids turn up). After missing the first band while we were loading in (sorry, guys—next time for sure), Whorecough, a local four-piece, took the stage. They'd played with Skating Polly before; everyone was excited to see each other. Whorecough blends high-pitched singing with animal shrieks over chunky Ramones chords and disconcerting time signatures. In between songs their drummer would bend over at the waist to try and talk to the audience through the mic on his snare. They've got a tape out on Quiet Year Records, a local label run by a super funny and rad woman named Judy.
Skating Polly crushed it yet again. I'm so glad this band exists. In the months to come they'll be on tour opening for Babes In Toyland after a stint with Kate Nash. I can't wait until the whole world finds out about these gals. I've called in the past for the displacement of obsolete male rockists in favor of teen girl supremacy; in this utopia of mine, Skating Polly would sing the national anthem. Tonight, I nominate myself as their merch person and proudly sling t-shirts and records after their set.
The stage is too small for all five of us, so I spend much of the set in the crowd. Kids clear a big space for me, nobody stops dancing, and everyone stays safe.
3/19/15: ASHEVILLE, NC/The Mothlight
God knows how much I adore ILoveMakonnen, but if I have to hear "I Don't Sell Molly No More" one more time, I'm going to put a pencil straight into my eye. My life is a movie, but the soundtrack needs some adjusting.
I love the Mothlight—we played here for the first time a month after it opened, which was about a year ago. All the same people work here, and they're still sweet. It's a beautiful, clean space with wrestling VHS tapes in the green room. Asheville is lovely and I would play here once a month if I could.
But tonight, I'm focused on the fact that some asshole nimrod dude in the audience stood in front of me for the duration of our set, flipping me the double bird. At one point, he threw beer on our keyboard player. Then he spit on me. From what I could see, he was young, white, about 5'5" with a beard, black hoodie pulled up over his head.
One of these days, this will happen, and I will leap off the stage and onto his face like a scrapyard Doberman. Because he is drunk and stupid, this will catch him off guard. The sheer force of my weight will knock him on his back. I will hold his head to the ground with my forearm and I will put one knee on his sternum, pinning him to the ground. I will pound him in the face until I know whether his nose or my knuckles give up first. I will spit into his open mouth. I will roll him out onto the sidewalk and lock the door behind him. After that I will get back on stage and finish our set.
Tonight is not that night.
After the show, we drive out to the middle of the woods to stay with my good friend Jes's parents. Jes is the singer of the Chicago punk band Split Feet. Their parents, once they retired, built a recording studio in a cabin adjacent to the house. I drink a few cups of tea and curl up with Ali. I fall asleep thinking about how that little prick has no fucking clue how lucky he was to walk out of that venue without crutches.
All images courtesy of Ali Donohue, Perfect Pussy's bassist and ace tour photographer. The second of three installments in this tour diary will go up next week.
Meredith Graves runs a small record label called Honor Press, writes about feminism and culture for many places (but mostly Rookie), and is the frontperson of Perfect Pussy. Right now her favorite things are tuna salad sandwiches, Maggie Nelson's Bluets, and wearing party dresses to the grocery store. She's writing a solo record, which will be out eventually on Captured Tracks.
---
Flygirl is Jezebel's new travel site dedicated to adventures big and small, tips and tricks for navigation, and exploring the world at large. Have a story or an idea? We're always taking submissions; email us with "Flygirl" AND your topic in the subject line. No pitches in the comments, please.