Let's get one thing straight: Robyn has not disappeared.

Yes, it's been eight years since her stellar compilation-slash-album Body Talk, when she graced America with a legendary floor-humping routine I assume thousands have tried and failed to replicate at karaoke. But Robyn has been making music; recording gothic robot anthems with Röyksopp, retro house music preaching the joys of free love as La Bagatelle Magique, and slow-burning club hits with Mr. Tophat. A few years ago, the Swedish artist began steadily releasing a series of remixes, letting DJs like The Black Madonna and Joakim punch up and update her pretty pop catalog for 2016.
If Robyn had run off anywhere, it was most certainly to the club. Over the past decade she has turned steadily away from the powerful but now commercial electro-pop of Body Talk and towards the throbbing, sweaty pulse of the dance floor. And it's this experimentation over the past eight years that has undoubtedly influenced her long-awaited new solo album Honey (out October 26), which strips away the superhuman toughness and flash that once defined Robyn's sound for something deeper.
While Honey might begin with the glimmering "Missing U," a throwback to the hard synths and heavy bass of her past, it's Robyn tensely singing, "I'm a human being" on the gloomy second track, her voice chasing the song's hollow metronome beat, that sets Honey's emotional tone. Throughout you can hear Robyn pulling from dance music that inspires her; there's sultry, modern disco on tracks like "Because It's In The Music" or "Baby Forgive Me," and '90s house on "Between The Lines" and the funny spoken-word "Beach2K20," in which she invites you, with the sound of a text message chime, to "this cute place on the beach, they do really nice food, come through it'll be cool."
But there's a somberness, as well, that permeates Honey, just as there always has been in Robyn's pop. "I'm never gonna be brokenhearted, ever again," she vows on the downtempo '80s funk finale "Ever Again." On "Because It's in the Music," Robyn sings of a song that makes her want to cry because it brings back too many memories. In interviews leading up to the record, Robyn has been open about the fact that the past eight years haven't been easy; she went through a break-up and lost a close collaborator and friend, Christian Falk, all of which seems to have bled into the album. But where she once dressed up those somber feelings in punchy, earth-shattering anthems about being indestructible and how she is not to be fucked with, Robyn strips it all down here to its danceable core.
Some fans will probably hate it, but this understated, rough-around-the-edges approach to Honey feels purposeful given where Robyn is at in her career. Vocals don't feel overly produced or layered, songs meander and stretch for several minutes, and there's a clean minimalism that runs throughout. These don't feel like Top 40 pop songs, but rather tracks built for DJs. On their own, songs like "Because It's in the Music" and "Baby Forgive Me," so sparse that the entry of a cowbell or chimes ringing in the background might as well be a bass-drop, possess a beautifully meditative quality. They remind me of a lot of what's coming out of Swedish electronic label Studio Barnhus these days, home to chilly compositions from artists like Baba Stiltz and Axel Boman. But given Robyn's affinity for collaboration, you can also just imagine how much people will enjoy playing with Honey's tracks, mixing them into larger, weirder compositions.

G/O Media may get a commission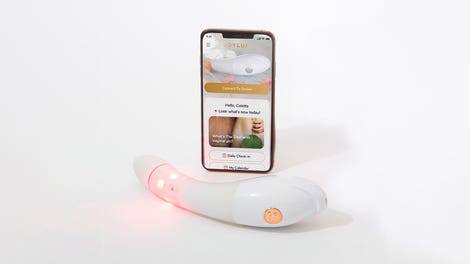 $50 Off
Joylux vFit Gold Device
Robyn has never been one for pop convention. She doesn't release music on a normal album cycle, and she doesn't conform to any specific album length. She works with who she wants to, when she wants to, in an industry that expects and rewards a steady stream of hits. No, Robyn would not remove songs from her album about having an abortion. And as a young woman, no, she did not submit to the whims of Swedish producers who wanted a controllable idol. After Body Talk was released, Robyn's sound sort of became par for the course in Western pop (the excellency with which she executed it, though, did not.) In America, stars like Lady Gaga, Kesha, and Rihanna were churning out similarly intense hits, but by the time they got there, Robyn was already gone.
And now Robyn's over here, making a different sort of electronic music, marinating on the beauty of crafting an experience rather than a two-minute banger. For so long, Robyn's music has trained her optimistic eye on her future; she doesn't look back. Dance out your heartbreak and sorrow, or bust. But Honey's truths are harder to swallow. "You're not gonna get what you need, but baby I have what you want," Robyn sings on the highly-anticipated title track. "Come get your honey." Honey might not be a collection of strobe-lit electronica designed to lift your spirits, but its slow and steady comforts are a sweet salve.