Last night at Carnegie Hall, history was made. Four women dressed in couture, posed with Liza, confused us with the presence of random celebrity cameos, and mugged for the cameras. (And that was just the red carpet.) Get. Carried. Away.
The woman, the legend, the Bushnell. And, may we add, an odd combination of 50's drag and 90's bar mitzvah.



Ashanti's dress reminds me of those walls with glass stuck in the top to prevent trespassers. Useful defense at an event like this.



G/O Media may get a commission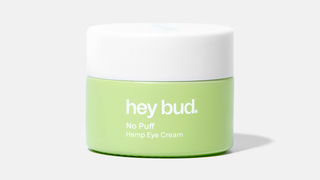 15% off
Hey Bud - No Puff Hemp Eye Cream
The Donald is clearly saying, "I demand this event end right now." Melania's clearly cut some kind of deal.



I wonder if Amanda Peet kept her coat on so as to slip out mid-film and avoid the awkward meet-'n-greet portion.



Gabourey clearly has the right idea: don't compare it to the show, don't get depressed about larger cinematic portrayals of women, just take it for what it is and have a laugh.



Speaking of "girls," the Gossips represented, depressingly the only available heirs apparent to the HBO crew. Down to the hit-and-miss fashion risks.



...and the Cosmo-ready wardrobe.



Whitney Port, in a sense, represents the superficial New York dreams the show wrought for a generation of young girls, making her presence here strangely appropriate.



I like to think that Jennifer Love Hewitt's dress is some kind of ironic tribute to what the show has devolved to in the public imagination, forever tarnished by the frivolous franchise, but sequins digging into one's backside for two-plus hours is a lot of commitment to the conceptual.



I read an interview in which Padma Lakshmi said she had a pretty iron stomach. Let's hope so! Anyway, she looks cool and typically, elegantly comfortable.



A woman comfortable with the sartorial appellation "girlish" - Suzanne Somers.



Gayle King matches her shoes to her belt and, somewhere, my grandmother is smiling.



Chris Noth, with Tara Wilson, has the look of a man who realizes he's lost his wallet. Or was in this movie.



The ladies themselves played it safe and classy. Cynthia Nixon reclaimed a large measure of her dignity with this elegant nod to old Hollywood.



Kim Cattrall is stunning as a 30s bombshell.



Kristen Davis stays in character in sweet bubblegum pink.



Can I admit I miss the whimsy of the hat? But still digging on SJP's neon Valentino!



Liza's knowing look, in combo with a transparent pants-suit, really says it all.


Getty." />