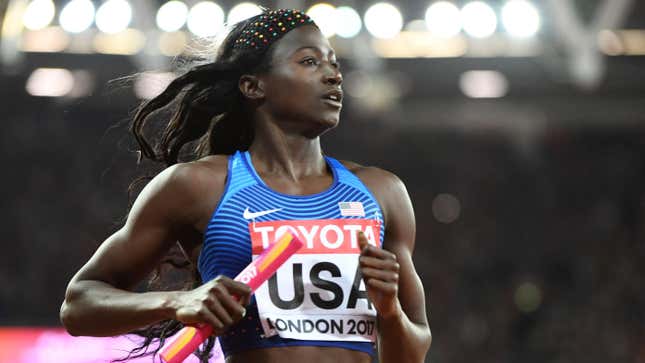 Tori Bowie, the professional sprinter and three-time Olympic medalist who died last month at age 32, was about eight months pregnant and in labor at the time of her passing, according to an autopsy report obtained by multiple news outlets. Her death highlights the maternal mortality crisis for Black women in the U.S.—as well as how dangerous pregnancy can be, even for the fittest bodies among us.
The report from the Orange County Medical Examiner Office said that Bowie died in her bed in her Florida home and may have had pregnancy complications, including respiratory distress and eclampsia. Eclampsia is a rare condition where a pregnant person with preeclampsia develops seizures which can lead to stroke or death. If a pregnant person has high blood pressure and protein in their urine, they have the disorder preeclampsia; about 3 percent of people with that condition will go on to develop eclampsia.
Authorities found Bowie at home when conducting a welfare check on May 2; her loved ones had grown concerned when they hadn't heard from her in a few days. At the time of her passing, it wasn't public that she was pregnant, though her obituary says she was preceded in death by a daughter, Ariana. (Bowie's agent told the New York Times the athlete was pregnant.)
At the 2016 Rio Olympics, Bowie was a gold medalist in the women's 4x100-meter relay, alongside teammates Tianna Bartoletta, Allyson Felix, and English Gardner. Bartoletta had her son via emergency c-section at 26 weeks. Felix has spoken about her own severe preeclampsia and emergency C-section at 32 weeks, including testifying before Congress about racial disparities in maternal health. She responded to the news about Bowie on Twitter Tuesday: "It's absolutely heartbreaking. We continue to face a black maternal mortality crisis in this country. My heart aches. We have to do more."
The maternal mortality rate in the U.S. is at a record high level, and it's about three times higher for Black women than for white women thanks to systemic racism in the health care system and elsewhere.
After Bowie's death, her agency wrote on Twitter: "We've lost a client, dear friend, daughter and sister. Tori was a champion…a beacon of light that shined so bright! We're truly heartbroken and our prayers are with the family and friends."
Bowie, who was born in Mississippi, also won silver in the 100 meters and bronze in the 200 meters in Rio and was the 2017 world champion in the 100 meters. Bowie was a two-time NCAA champion in the long jump at the University of Southern Mississippi.
Every death from pregnancy and childbirth is a tragedy, and we are thinking of her family and friends.