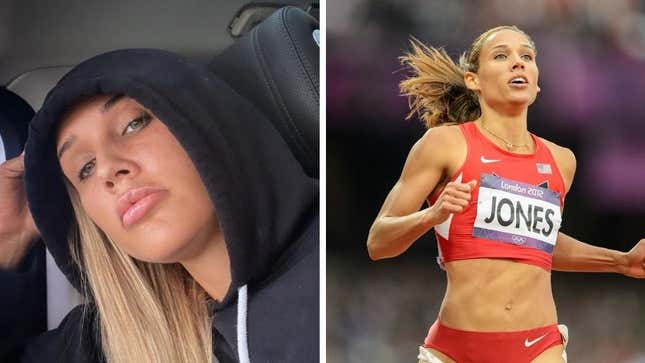 Three-time Olympian Lolo Jones said in an Instagram post Tuesday that she has had three separate male stalkers in the last year alone.
Infamously Thin-Skinned Man Joins Twitter's Board
The 40-year-old Olympic hurdler and bobsledder says the incidents have "jeopardized" her and her friends' safety and "altered my life." One of the men, she writes, broke into the Olympic training center and stayed overnight in hopes of finding Jones there. The second has allegedly repeatedly harassed her friends in an effort to contact her. She claims the third man stalked her house and later told the police he knew Jones from Instagram and that she had invited him to live with her. She included screenshots from a surveillance device that show that individual outside her door, though she wasn't home at the time.

"I'm DONE," she wrote in the caption. "If there was any confusion here is me being very fucking clear: I'm not interested. EVER. This is not the way to go."
Jones then included instructions for anyone who believes they might have a stalker ("find a well-lit public area and dial 911," and carry protection like pepper spray, lipstick taser, or a personal safety alarm). She reiterated again, "To make it clear: I DO NOT WANT TO DATE ANYONE FROM INSTAGRAM."

The safety of women athletes on the whole has always been precarious, but with the advent of social media and the appearance of constant availability, women like Jones are exposed to a new level of constant threats. Jones is a renowned and decorated athlete, which means she is by nature hyper-visible; but male fans seem to have mistaken her online presence—which is often required for brand endorsements—as being open to fielding questions and dating requests. This dynamic, of course, complicates her security, but there are no meaningful safeguards for female athletes on any level of sport, and especially not in the offseason.

Kathyrn Coduto, an assistant professor of media science at Boston University told The 19th News, "The stereotype exists that women are influencers and if they are influencers then they want people looking at them all the time and that the people they want looking at them are men."

Aside from concerning parasocial relationships, women athletes are inherently sexualized by fanbases, the media, and other athletes (LSU athlete Livvy Dunne, for example, is the highest paid college athlete at present, but the New York Times credited that success to a "sex sells" ethos). Jones is known to post images of her body because, oh I don't know, it's an athletic wonder, though women never need to justify the reasons for putting their bodies online. Even if Jones wasn't an athlete, she would be well within her rights to post her body in as little or as much clothing as she'd like without male followers assuming the photos are an open invite for solicitation. Jones has also been forthcoming on Instagram about her hopes of finding a partner and not wanting to have premarital sex—but again, the mere mention of romantic pursuits or sex is not an indication that she would like those pursuits to start up in her DMs!

"I get teased all the time because I won't have premarital sex," she wrote in an Instagram post. "Guys will dm me that I'm old. I'm washed up so I should just put out already."

But this is the precise hypocrisy for women who are athletes: If they don't make themselves available, they're poised to lose media visibility, brand deals, and potential fans. When they do make themselves available, they become subject to undue scrutiny and security risks. Look at Brittney Griner or tennis player Peng Shuai. Look at NWSL players Mana Shim and Sinead Farrelly who were harassed and abused by their own coach under the watch of the Portland Thorns and the league. Look at Dunne, who has 6.7 million followers on TikTok and was recently swarmed by "hundreds" of teen boys at a gymnastics meet, making it unsafe for her or her teammates to even exit the bus.

Institutions have always been quick to profit off women athletes. They are far slower, however, at ensuring those women will be safe after the fact.