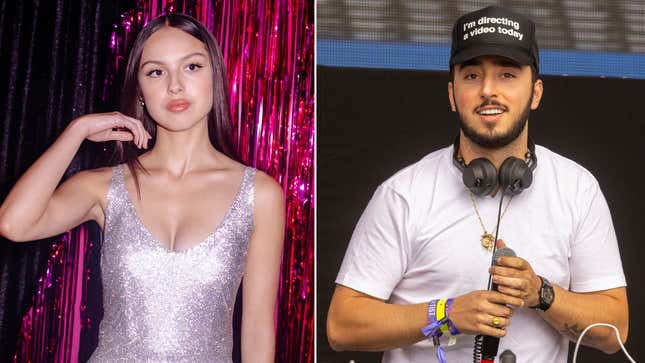 Zack Bia, the producer (?) or... something, who was linked with Olivia Rodrigo during the summer of 2022 when he was 26 and she was 19, is denying any wrongdoing in his short-lived relationship with the pop star, even as he's widely rumored to be the inspiration for her angsty song "Vampire."

Olivia Rodrigo's Gen-Z Fans Made Me One, Too
"I don't think it's really about me," he told GQ (who called him a "Burgeoning Music Mogul"???) in an interview published on Monday. "I think the Internet just ran with it." He told the magazine that as someone who's "in the industry" he "[knows] how a song gets made," but insists that their relationship—if one can call it that—wasn't that serious: "We hung out, we're both busy, and we ended up not furthering our relationship. There was never any drama, you know?" I don't know...but sounds like something someone who has "a castle built off people" they "pretend to care about" might say.
Bia, who's previously dated singer Madison Beer, and is rumored to be the subject of some of her own heartbreak-heavy tracks, only had positive words to say about Rodrigo and her music: "Look, the momentum of a song is so special. I think Olivia is a generational songwriter. I think she's a generational talent. I'm always just proud of her continued accomplishments." Come to think of it, that sounds exactly like what a "blood-sucker" and "fame fucker" would say...

A couple of memorable lines on "Vampire": "And every girl I ever talked to told me you were bad, bad news / You called them crazy, God, I hate the way I called them crazy too." I am personally choosing to guess that "every girl" includes Beer, who, by all accounts, is not a fan of Bia's.
This is all reminding me of when "Vampire" first dropped in July and Beer publicly thanked Rodrigo for driving an uptick in streams on her 2021 track "Selfish," which is also widely believed to be about Bia. Women supporting women <3
---