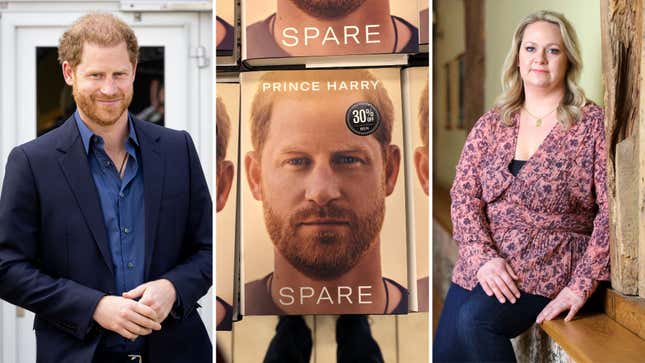 In the memoir of my life, I sincerely hope that enough interesting things will have happened to me that I won't have to write about losing my virginity. You'd think that the same were true for Prince Harry—a literal royal, a war veteran, and a philanthropist whose met countless interesting people. But the Duke of Sussex, who I think has been officially crowned the world's biggest (or at least most famous) over-sharer, it was a moment worth revisiting in excruciating detail. As for the person Harry lost his virginity to, she much would've preferred to leave their sexual encounter in the past, but after much speculation about her identity, she shared her story with—who else—Britain's biggest tabloids over the weekend.

Sasha Walpole, 40, spoke with The Sun to share her side of the story—and to air some grievances about Harry publicizing their 2001 rendezvous in his memoir, Spare. "I don't understand why he went into such detail," she said. "He could have said that he lost his ­virginity and left it at that."
Walpole began working at Highgrove, Prince Charles's estate, as an assistant groom (aka with horses) when she was 17, and she and Harry became friends. Of their brief sexual encounter, she said, "It was literally whambam between two friends."
Walpole said that she felt forced to come forward after the guessing game about her identity reached a fever pitch. "I was going to keep my head down and not talk about it," she said. "I am in this situation because Harry has put it out there." Because of the speculation, Walpole even told her father, who had been left in the dark all these years—since that's not usually something you share with pops!
Harry's perspective, which he documented in Spare, was more...specific. He wrote of losing his virginity to an "older woman" when he was 17. Thanks to Walpole confession and, well, basic math, we now know that Harry (who is 38) was talking about a two-year age difference, not a borderline inappropriate dynamic. According to Harry, Walpole "liked horses, quite a lot, and treated me not unlike a young stallion." Harry really ran with the horse metaphor: After the "quick ride" (which Walpole says lasted about five minutes), he wrote that she "smacked my rump and sent me off to graze." Gross.
As she told The Daily Mail, Walpole's version begins with inviting Harry to a pub where she was celebrating her 19th birthday. Harry came bearing gifts, including a "stuffed Miss Piggy and a comedy birthday card with a joke about a flatulent whale on the front." Ah yes, teen romance. After lots of drinking, he later suggested they go outside to smoke, Walpole said, and, "He started to kiss me...It went from a kiss on to the floor pretty quickly."
Though she blessedly did not use a horse metaphor, she said that "there were no virgin vibes—he seemed to know what he was doing."
While I fully understand Walpole—who now operates a digger and, according to the accompanying photos, seems to live a charmed, if very normal, life in the countryside—wanting to tell her side of the story, the further information she's provided has only furthered the TMI news cycle prompted by his memoir.
For any other globally famous person contemplating a memoir, I beg you to just keep it in your diary, so we're not again subjected to everyone mentioned feeling like they, too, need to clear the air.