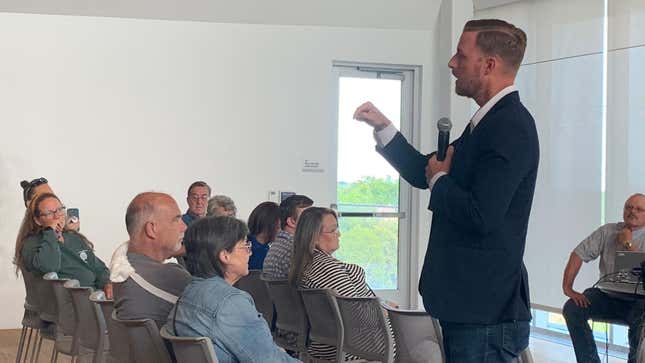 Oklahoma's far-right superintendent has insisted that the Tulsa race massacre can be taught in public schools without amounting to "critical race theory"—so long as it's taught without discussing race.
Ryan Walters, the state's former education secretary, has vocally railed against "CRT," which he characterizes as any teaching remotely grappling with white supremacy. On Thursday, Walters fielded questions from parents and community members at a town hall, including one question about how curriculum about the Tulsa race massacre doesn't violate his critical race theory ban.
"I would never tell a kid that because of your race, because of the color of your skin, or your gender or anything like that, you are less of a person or are inherently racist," he told the audience. "That doesn't mean you don't judge the actions of individuals. Oh, you can. Absolutely, historically, you should. 'This was right. This was wrong. They did this for this reason.' But to say it was inherent in that because of their skin is where I say that is critical race theory. You're saying that race defines a person."
Of course, the Tulsa race massacre in 1921 was, objectively, about race: A group of white supremacists specifically targeted an economically prosperous Black neighborhood in Tulsa known as "Black Wall Street." The white mob murdered Black residents and razed the community to the ground in what historians recognize as a horrifying act of racially motivated violence.
University of Oklahoma professor Samuel Perry tweeted in response to Walters' remarks about the Tulsa race massacre on Thursday, "My wife (a teacher) and I attended this event tonight. This was just the tip of the iceberg of idiocy Walters spewed." He continued, "Driving home we felt so angry and embarrassed we live in a state where people elected this ignorant and incompetent clown."
Walters' comments about the Tulsa race massacre come as Black history—as well as LGBTQ existence—are increasingly being censored from school curriculum by right-wing extremists. Last year, Florida Gov. Ron DeSantis (R) signed the Stop W.O.K.E. Act to similarly censor the teaching of white supremacist violence and Black history from classrooms.
The New Republic reports that after Walters addressed the Tulsa race massacre on Thursday, the rest of the town hall only got worse for him. Attendees reportedly mocked him and his policies, as well as his choice to facilitate a town hall about banning books in a public library of all places. But of course, this level of absurdity is to be expected from someone who's called for schools to promote Christianity and "western heritage" in classrooms and hang up the Ten Commandments on classroom walls.
I'd like to get off this train, please.