It has come to my attention that HomeAway is currently holding a sweepstakes pegged to the release of Beauty and the Beast, which allows the winner to stay in a 14th century Scottish castle. Well, I regret to inform you that a 14th century Scottish castle has precisely zero to do with the architectural aesthetic of the Beast's home.
Earlier today Cosmopolitan's Twitter account re-upped this video. HomeAway initially announced the contest back in February with a press release declaring: "HomeAway to give away a fairy tale-like castle stay in celebration of Disney's 'Beauty and the Beast.'" A winner and 20 guests will get to stay at Duns Castle in Scotland.
Disney movies are generally a cartoon mishmash, of course, the most glaring example being the Orientalist ragbag that is Aladdin's "Agrabah." Also, castles and palaces are often a slight jumble, anyway, because they're generally owned by people with money to add on and redo in each successive stylistic wave. But the original animated version of Beauty and the Beast is at least somewhat coherent. Animator Glen Keane told ScreenRant in a 2010 interview that the Beast's home was inspired by the Chateau of Chambord, which is built in the French Renaissance style. The show-stopping library—probably the most famous interior in the film—is pretty clearly Baroque. Compare to the Admont Abbey Library in Austria, or the Giants' Hall in Innsbruck's Hofburg, or the Nymphenberg in Munich. This incredibly detailed fan site also notes that in the dining room in the original animated film, there's a riff on Fragonard's "The Swing," which is pretty much textbook rococo at its most wonderfully wacky and tacky.
Presumably the 2017 version will stick close to the same territory. Entertainment Weekly, having spoken to production designer Sarah Greenword, reports:
Beauty and the Beast's 1740s setting places it smack in the middle of the rococo period, and the elaborate, luxurious style lent itself perfectly to the idea of an enchanted castle. "All our draft people had to do rococo boot camp," Greenwood says, laughing. "What we didn't want was something that was going to get kind of dank and overgrown. Rococo worked really well because it's so effervescent."
G/O Media may get a commission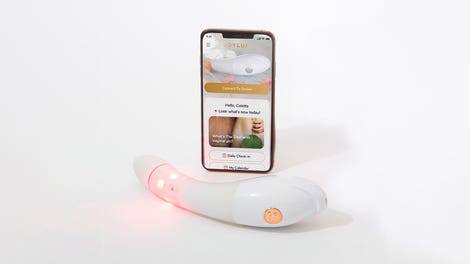 $50 Off
Joylux vFit Gold Device
All that's within in a pretty tight band of 300 years on the continent and has nothing to do with 14th-century Scotland. Look at this promo video. When they cut between footage of Duns Castle and the movie, the difference is glaring!

What about this looks like medieval Scotland? Nothing, that's what.
Anyway, I am a pedantic asshole, but facts are facts. Guards, remove this trash castle from my sight.