Welcome to Loser Sons of Politics, a column where members of the Jezebel staff recall with fondness the antics of the loser sons of politicians. Today, for the first time and with great pleasure, we bring you a loser daughter. #Historic #Equality
Oklahoma Governor Mary Fallin is all about personal responsibility and cutting government waste; this past February, in her State of the State address, she promised the upcoming legislative session would be a time, in her words, "to really unpack the way the state is spending its money."
Two months later, according to a report from local news station KFOR, Fallin's daughter Christina pulled her travel trailer onto the governor's mansion property, hooked up to the utilities, and stayed. She's one of two adult Fallin children currently living at the governor's mansion:
A view from above shows there is a trailer connected to the mansion, meaning tax payers are likely footing those utility bills.

The governor's office would not go on camera for an interview, but a spokesperson admits the RV has been there since April.
The governor's office told us, by phone, they believe it is perfectly acceptable for Christina Fallin to live with her mom and for one of her step-brothers to be living in an apartment over the garage on the property.
According to NewsOK, Fallin's husband's son Adam Christensen is living in an apartment over the garage, an arrangement which NewsOK says "will change soon," as he's just gotten engaged. Another son is living in the governor's mansion while he's home on summer break from college. Christina is said to be living in the travel trailer "while she looks for more permanent housing." According to KFOR, living in a travel trailer for more than 14 days in one year is a violation of Oklahoma City Code, as is hooking up utilities to a home on more than a temporary basis. However, the governor's mansion is exempt from those city codes, as they're governed by the state.
Fallin has presented this whole thing as simply having her children home for the summer. The Governor's office told both KFOR and NewsOK that this was all about family time. From NewsOK:
"Wade and I are very fortunate to have a close knit family and are really blessed having some of our kids home for the summer," Fallin said.

"A couple of our adult children have moved out of state pursuing their dreams.

"Family is very important to us as parents. Our children enjoy spending time with us too and we love spending time with them, especially as we are all really busy people.

"Having the time to catch up on their lives, getting together for a cookout or watching a movie at night is a real treat. Like any working mom or dad, life is a lot easier when you have a loving and supportive family around you."
G/O Media may get a commission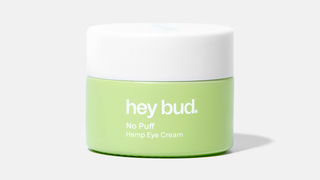 15% off
Hey Bud - No Puff Hemp Eye Cream
If you recall Christina's name, that's because last year she enraged just about everyone with an ill-considered series of promotional photos for her band in which she wore a Plains warbonnet. She responded to the criticism by wearing the warbonnet on stage and as well as, according to Raw Story, "a Native American-style fringed shawl with the word 'Sheep' on the back." She then "performed a fake war dance while her boyfriend Steven Battles ridiculed the protesters and flipped them off from the stage."
We're sorry to hear that Christina, who according to her Instagram recently returned from an eight-country trip through much of Europe, is having a tough time finding a place to stay, as is Adam. Best of luck, guys.
---
Contact the author at anna.merlan@jezebel.com.
Public PGP key
PGP fingerprint: 67B5 5767 9D6F 652E 8EFD 76F5 3CF0 DAF2 79E5 1FB6
Screengrab via KFOR
Loser Sons logo by Bobby Finger.