Ohio State University is warning its students that an active shooter has been reported on campus. The campus emergency system sent out a warning to students to "run, hide, fight," the instructed protocol for an active shooting.
Ana Gasteyer Satirizes the Girl Boss in 'American Auto'
G/O Media may get a commission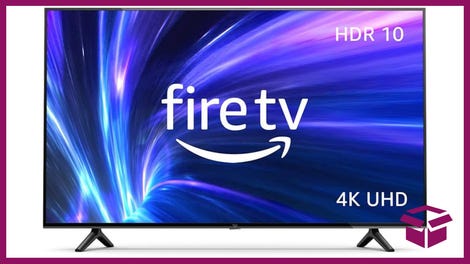 42% Off
Amazon Fire TV 50" 4K Smart TV
There is no additional information available yet and we don't know if any injuries have been reported.
Update, 10:35 a.m.:
Although early information is still chaotic, the Columbus Fire Department told NBC 4 that seven people have been taken to the hospital.
A professor also reportedly told the news station that a colleague had been stabbed or cut with a "machete."
Update, 10:40 p.m.:
A second news station confirms seven people were shot, and that trauma surgeons were requested at the nearby Wexner Medical Center.
Update, 11:20 a.m.:
Columbus police are telling local media outlets that one suspected shooter is dead. Nine people are now reported injured.
CBS has footage of two people being brought out of a garage in handcuffs. It's unclear what that means. In many active shooting situations, early reports of two or more assailants turn out to be incorrect.
Update, 11:35 a.m.:
Ohio State has sent out another set of alerts, saying that the scene has been secured and students who were sheltering in place are able to leave.
Update, 12:45 p.m.:
The Associated Press reports that none of the victims have life-threatening injuries. Eight people are being treated at an area hospital. The AP also reports that not all the injuries are gunshot wounds. They suggest a bizarre and chaotic scene played out this morning:
Meanwhile, according to several media reports, an Ohio State spokesperson indicated that the suspect was shot and killed by police, instead of dying by suicide, as has been the case in other campus shootings. That person remains unidentified.
Update, 2:05 p..m.:
NPR is now reporting that contrary to earlier reports, no gun was used in the attack at all. The suspect reportedly struck a group of people with his car, then leapt out and attacked them with a butcher knife. An officer who arrived on the scene around 9:52 a.m. shot and killed the suspect. One person is in critical condition and the rest are stable at three area hospitals.
Update, 4:00 p.m.:
The Associated Press reports that the dead suspect has been identified as Abdul Razak Ali Artan, a legal permanent resident of the United States who was born in Somalia. Columbus Police Chief Kim Jacobs says it's possible the incident will be investigated as a terror attack, although that's not clear yet: "I think we have to consider that it is."
In a press conference this afternoon, Artan was identified as an OSU student.
Update, 4:15 p.m.:
The Lantern, OSU's student newspaper, profiled Artan in a brief clip this summer, on his very first day on campus. He's described as a third-year student in "logistics management." In an awful twist, he talks about being an observant Muslim and his fear that media portrayals would make his fellow students distrust him if they saw him praying openly. Here's a screenshot:
This is a breaking news post and will be updated.