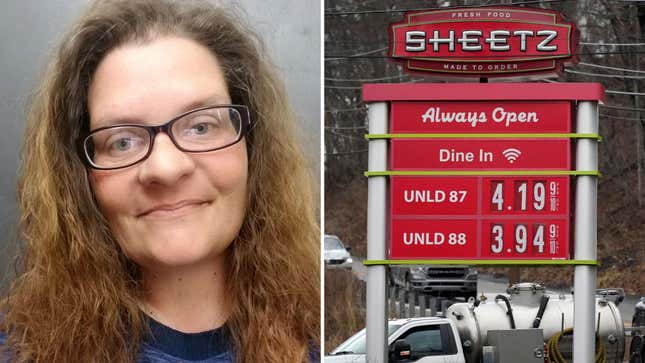 Rose Marie Counts, a woman from Circleville, Ohio claims she had no choice but to leave her job at her local Sheetz because her teeth—many of which she are missing because she says her ex-husband knocked them out of her mouth—violated the convenience store's "smile policy."
"This company has no idea what I've been through," Counts says via audio of a meeting she recorded with the store's management. "I lost these front teeth because my ex-husband headbutted me because I forgot to turn the hall light out," she explains. She posted the audio, accompanied by a written account of her dismissal, on Facebook.
"I was informed that policy states all Sheetz employees must have and remain with a perfect beautiful warm welcoming smile," she detailed of the meeting with management. "The company defines my smile as unbeautiful because I still have work that needs to be done on them." Counts has awaited permanent dentures (which Sheetz insurance would reportedly partially cover) for her damaged smile since the incident but claims her plan does not cover temporary dentures in the interim. As a result, she's been forced to live with missing and broken teeth until a permanent procedure.
"Even though I am good at my job I can no longer be a frontline employee with the company because of my smile," she wrote. On the audio, the manager can be heard telling her that while she heard "wonderful things" about her from customers, she was not to return to her role behind the register.

"I feel like my job performance should be enough," Counts replies, stating that she felt compelled to seek employment elsewhere. "I don't feel like I should have to justify myself because of my looks."
The company's policy forbids employees from working with "obvious missing, broken, or badly discolored teeth" unrelated to a disability. They're given 90 days to make the required amendments. In an interview with Business Insider, Counts recalled that the manager asked her for a detailed timeline showing when the procedures would take place and how much they would cost. Instead, she opted to walk away.
"Dental work is really expensive, even on Sheetz's really good dental plan," an anonymous employee told the publication.
Business Insider also reported that the company is currently reviewing its "smile policy" but defended Counts' manager, stating that she "was handling this type of situation for the first time."
"This is in my opinion one of the biggest forms of discrimination that there can be," Counts wrote. "Who are they to decide what beauty is. So I leave this job feeling like I'm not good enough again."