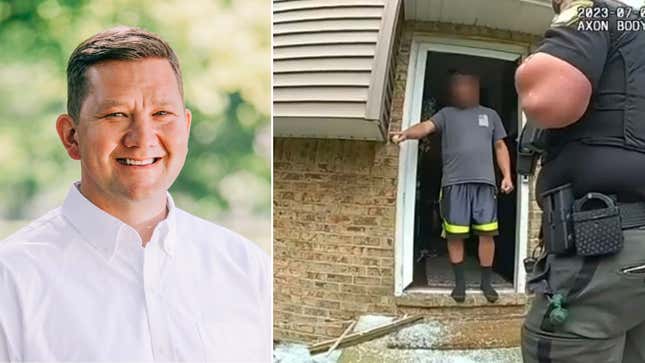 Ohio state Rep. Bob Young (R) is refusing to resign after being indicted on one count of domestic violence and one count of assault following alleged altercations involving his wife and brother earlier this month. Early Monday, the Summit County Sheriff's Office released body camera footage that shows the bloody wreckage at his brother Michael's home after Young came to confront him.

According to court documents and police reports that have been shared by local media, the violence began when Young was loudly arguing with a friend early in the morning on July 7. Young's wife, Tina, says she raised a hand in front of his face to quiet her husband down, prompting Young to grab her arm and hit her with an open hand across the face. When Tina tried to call the police, she says Young grabbed her phone and threw it into the pool.
At that point, Tina claims she took their kids and went to Michael's home "for safe haven," per a police report. Hours later, Young came to his brother's house looking for Tina and the kids, prompting a violent confrontation between the brothers.
"Long story short, his wife is here. She left, didn't feel safe last night. Came here, hung out. He found out this morning," Michael told police on July 7 in the body camera footage. "He came and I just lowered and charged, and he went through the glass. Landed right over there." The struggle appears to have led to a shattered glass door and blood splattered across the floor, video shows. At one point in the body camera footage, an officer asks Michael if it was "just an argument" between Young and wife. "It was an altercation," Michael replies.
Since criminal charges were brought forth against Young last week, Ohio's Speaker of the House, Rep. Jason Stephens (R), immediately called for Young to resign. But for weeks now, Young has refused. In a statement shared last week addressing the allegations against him, Young seemingly admitted to his violent acts and blamed his behavior on the fact that "[his] life has been very stressful lately" and he and his dinner companions "had some drinks." Instead of resigning, with an impending court date on Aug. 4, Young is determined to remain in office and enter a counseling program to atone for his actions.
"On this particular evening at my home, we had some drinks and I acted poorly and said things I shouldn't have. My behavior, while not criminal, was inappropriate and out of character. I apologize to everyone involved, including and especially my wife and children," Young said. He continued, "I take pride in serving the people of my district and will continue to serve them even as I work through these issues. I know there are better days ahead, which is why I'm voluntarily entering a counseling program to address some of the issues that led to this incident."
First elected in 2020, Young has received hundreds of thousands from the Ohio Republican Party and voted just last month to pass an omnibus anti-trans bill called the Saving Adolescents from Experimentation (SAFE) Act, as well as a Parental Bill of Rights law to censor teaching about queer identity and resources for LGBTQ youth in schools. In 2021, Young voted for an anti-abortion, so-called "born alive" bill to further stigmatize abortion.