A Planned Parenthood in Columbus, Ohio, was vandalized Sunday night, with red paint splashed on the door and graffiti calling the facility a "Satan den of babykillers." It also featured a Bible verse suggesting its employees deserve to be cast into the sea with millstones around their necks.

The East Columbus Surgical Center provides both family planning and abortion services. In a report from the Columbus Dispatch, which we saw via the Friendly Atheist, employees at the facility said the vandalism happened sometime overnight Sunday. Friendly Atheist has photos of the front door, which is awash in dripping red paint that's clearly meant to look like blood. The side of the facility was vandalized to read "SATAN DEN OF BABYKILLERS GOD SEE ALLLL Mark 9:42."
The Dispatch story incorrectly says the verse quote was Mark 9:14; it's pretty clearly 9:42, as the Friendly Atheist says, which reads as follows:
And whosoever shall offend one of these little ones that believe in me, it is better for him that a millstone were hanged about his neck, and he were cast into the sea.
The center is protested daily by anti-abortion groups, who told the Dispatch as well as NBC that they're not responsible for the vandalism. Protester David Daubenmire told NBC, "We're more concerned about the red blood that's inside the building than the red paint that is on the outside of it. To us, it is just a distraction of what's really going on inside that place."
G/O Media may get a commission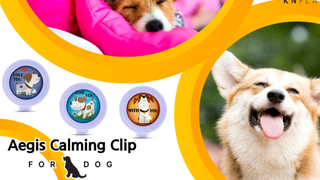 20% off
Aegis Calming Clip for Dogs
Planned Parenthood of Greater Ohio issued a statement saying they have "strong security measures in place," but expressing concern in what they see as "an increase in vitriolic, hateful rhetoric:"
"Today, like every day, our unwavering commitment is to the health and safety of our patients and staff. We have strong security measures in place to ensure that our health centers are safe, supportive, welcoming environments for all people to get the high-quality health care they need.

"As we've seen today, the increase in vitriolic, hateful rhetoric is alarming. These attacks are perpetuated by extreme individuals who continue to invoke lies and smear videos to demonize Planned Parenthood and the 80,000 Ohioans who come to us for basic health care.

"The individuals responsible for this act hope to send a signal that using acts of violence will intimidate health care professionals and the women we serve. They are wrong. At Planned Parenthood, our doors will stay open — no matter what. We remain steadfast in our commitment to provide Ohioans with the reproductive health care they need and deserve."
Planned Parenthood sued the Ohio Attorney General in December, after he claimed to have found "fetal remains" in a landfill, which he said came from Planned Parenthood facilities. In late February, Ohio Governor and nominal presidential candidate John Kasich signed a bill barring Ohio Planned Parenthood facilities from getting federal family planning funds.
Volunteers quickly covered up the graffiti on Monday morning.
---
Contact the author at anna.merlan@jezebel.com.

Public PGP key
PGP fingerprint: 67B5 5767 9D6F 652E 8EFD 76F5 3CF0 DAF2 79E5 1FB6
Screenshot via NBC 4