For New York's Fall Fashion issue, the apparently very patient Amy Larocca has profiled Vanessa Beecroft, longtime performance artist and, more recently, frequent collaborator of Kanye West, who you may remember from the way she organized the fashion show for Yeezy Season 2 by models' skin color, "like human Pantone chips," writes Larocca.
Turns out that Beecroft, a white woman from Italy, is quite the wilder in every aspect of her life, in a well-crafted story that, in comparison, somehow makes Rachel Dolezal seem... scrutable? Here is a quote from the very first paragraph:
"I have divided my personality," she says. "There is Vanessa Beecroft as a European white female, and then there is Vanessa Beecroft as Kanye, an African-American male." Later she tells me, "I even did a DNA test thinking maybe I am black? I actually wasn't. I was kind of disappointed, and I don't want to believe it. I want to do it again, because when I work with Africans or African-Americans, I feel that I am autobiographical. If I don't call myself white, maybe I am not."
In case you think that perhaps Beecroft is approaching this interview as a performance artist, and perhaps trying to be confrontational or question the constructs of "race" (and to be clear, I don't think this, but some people on Twitter seem to), consider when Larocca looks back at her career in the late '90s, when she was first pulled to the States by famous curator Jeffrey Deitch:
As an adult, she began to cast black women when she first came to America. "My first black project was originated by the fact that I met a bluesman from Chicago in Italy and he was white and he was really, really upset by being white, he kept saying, 'If only I was black.' He felt discriminated against. And that really triggered something for me. I said, 'I'm going to be black, too,' " she tells me. "I had wanted to move to the States because of the presence of African-Americans. When I landed at JFK, my first impression is being welcomed by all of these African, or maybe Jamaican, air people that help you at the airport with your luggage. They were so kind. Welcome! I was so happy to see mixed races. In Italy, they are in the street selling gadgets."
G/O Media may get a commission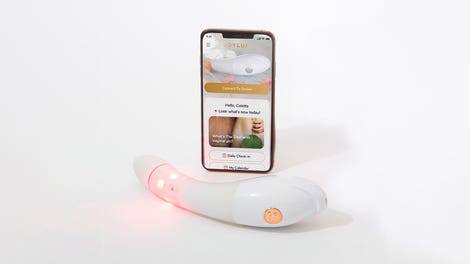 $50 Off
Joylux vFit Gold Device
While race divisions do tend to get extremely stark in certain parts of Europe including Italy, obviously Beecroft just keeps taking it one step (or 32 steps) beyond. Throughout the piece, Larocca is fair—much fairer than I might be on the same assignment—but she shows Beecroft for what she is. As a matter of fact, she wouldn't be able to do otherwise, because Beecroft is an active volcano of jawdropping (not provocative, but bizarre at best) racial fantasies, always doused with a bit of poverty tourism.
But Beecroft did go to Africa, just a year after having her second child. She set out for Darfur but would end up in what is now South Sudan. "It was so beautiful," she says, "really aesthetical! And everyone looked like Alek Wek." She was comfortable in flip-flops, whereas the workers from the local NGOs were suited up in boots. I was not intimidated," she says.
This woman just said everyone in South Sudan looked like Alek Wek though! My head is spinning like Linda Blair meeting the Exorcist! And, like:
These days, Beecroft and Spadoni live in a house they call their "favela."
On one hand I would like for one or several leading scholars on race to write a blog post or two about this, but on the other I know—and the story makes it clear—that Beecroft might just be in great need of help, a person with disturbing, othering thoughts on race and poverty who seems to have been enabled as "brave" by people in the art and fashion worlds who thought she was edgy and beautiful, up to and including Kanye West. (Another and more prominent part of me would simply like this loathsome person to disappear from the public eye forever.) But for whatever it's worth, she's no longer on West's payroll, reports Larocca, since the whole issue with his debt. Kim Kardashian, herself not so sharp when it comes to race but notoriously great with business and money, "cut everything out."
Read the whole piece here, but probably steel yourself first.