Oh no! America! We have to fix everything that is wrong with the environment and stop climate change RIGHT NOW or else Chipotle, the country's best purveyor of sort-of Mexican food that isn't Taco Bell, may stop serving guacamole altogether.
I will give you a moment while you dry your tears.
According to Think Progress, Chipotle is goddamn dead serious about this shit, OK?
Chipotle Inc. is warning investors that extreme weather events "associated with global climate change" might eventually affect the availability of some of its ingredients. If availability is limited, prices will rise — and Chipotle isn't sure it's willing to pay.

"Increasing weather volatility or other long-term changes in global weather patterns, including any changes associated with global climate change, could have a significant impact on the price or availability of some of our ingredients," the popular chain, whose Sofritas vegan tofu dish recently went national, said in its annual report released last month. "In the event of cost increases with respect to one or more of our raw ingredients we may choose to temporarily suspend serving menu items, such as guacamole or one or more of our salsas, rather than paying the increased cost for the ingredients." Chipotle did say that it recognizes the pain it (and its devotees) would have to go through if it decided to suspend a menu item. "Any such changes to our available menu may negatively impact our restaurant traffic and comparable restaurant sales, and could also have an adverse impact on our brand," the filing read.
Chipotle uses about 97,000 pounds of avocado every day to make delicious, nurturing, better-than-a-mother's-kiss guac. (That's 35.4 million pounds of avocados every year. Holy Guacamole!) Scientists from Lawrence Livermore National Laboratory are predicting a 40 percent drop in avocado production over the next three decades, thanks to hotter temperatures that will affect California (where delicious avocados come from).
So what does this all mean for Chipotle's guac production?
Chipotle's commitment to organic, local, and sustainable farming practices is also one of the reasons why it may be more susceptible to unexpected climate shifts. As the company notes, its food markets "are generally smaller and more concentrated than the markets for commodity food products," meaning Chipotle buys from producers that are less able to survive bad farming conditions without raising prices. And those prices have already been raised significantly over the last year, Chipotle said.
"For instance, two years of drought conditions in parts of the U.S. have resulted in significant increases in beef prices during late 2013 and early 2014," the company said, noting that more price increases on beef could affect its decision to suspend guacamole service. While scientists' understanding of drought and climate change is evolving rapidly, mainstream climatologists' view of drought is that it is directly linked to man-made climate change. Severe and prolonged drought has put a strain on farming practices in California, the state which holds the most Chipotle restaurants (288, according to its annual report.)
G/O Media may get a commission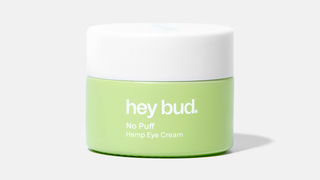 15% off
Hey Bud - No Puff Hemp Eye Cream
Do you understand now? THERE IS A GUAC CRISIS ON THE HORIZON, PEOPLE. You may be soon be faced with the harsh reality of living in a world where your chips remain forever dry and guacamole-less. Your children's children may grow up never knowing that they can add on guac to any burrito, bowl or tacos at their whim.
I don't want to live in that world.
Image via Shutterstock.