Beloved former Today co-anchor Ann Curry has finally decided to start talking, and this Wednesday morning is filled to the brim with the kinds of quotes and stories you've been expecting from her since her disgraced former coworker (and presumed mortal enemy) Matt Lauer was kicked out of his villainous office and onto Rockefeller Plaza with all the sign-holding tourists.
Let's not waste time introducing this and just get knee-deep into this, because our pal Ann is all over the place today promoting her new PBS show We'll Meet Again. She's back! She's finally back!
From People (the full issue drops Friday, but they provided a few teaser quotes):
On being booted from the show:
"I'm not going to say it wasn't hard. But I had to let go. And I learned that when you not only let go but open your arms wide and learn the lessons that an experience—no matter how bad—can teach you, that's when you rise."
On being stronger than yesterday, now not being nothing but her way, and her loneliness not killing her no more:
"I can say today I'm stronger now. I'm smarter. I'm happier, as happy as I've ever been. And my compassion has only grown. When you go through the pain and learn the lessons, you will be changed for the better."
G/O Media may get a commission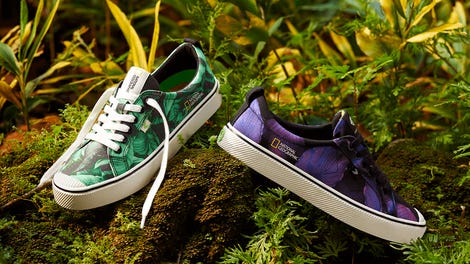 New New New
Cariuma + National Geographic
On her career:
"I'm in it to give, not to get. This show lets me explore people's beautiful wishes to reconnect with the people who helped them survive."
But wait, Ron! There's more! Curry also appeared on CBS This Morning, where she was asked directly about Lauer's firing. Here's what she had to say (video below):
"I am not surprised by the allegations...I know what it's like to be publicly humiliated...I don't want to cause that kind of pain to somebody else...But I can say that I would be surprised if many women did not understand that there was a climate of verbal harassment that existed [at the Today Show]. It was verbal sexual harassment."
Compare this to what Katie Couric said. Something's not right here...
[People]
---
This story, also from People, is deeply satisfying. In this new world where actors who've worked with Woody Allen in the past are making headlines for donating their salaries to organizations that support women, Selena Gomez decided to be like, "I'm donating more."
Reports People:
Though Gomez, 25, has yet to make a similar public stand against Allen, a source close to the actress tells PEOPLE that she "made a significant donation anonymously" to the Time's Up Legal Defense Fund that "far exceeded her salary for the film."
Sure, this means nothing until we hear it from Gomez herself, but I fully expect a full statement (alongside a stunning Instagram photo shoot) within the next two weeks.
[People]
---
But you you're not allowed
You're uninvited
An unfortunate slight
---