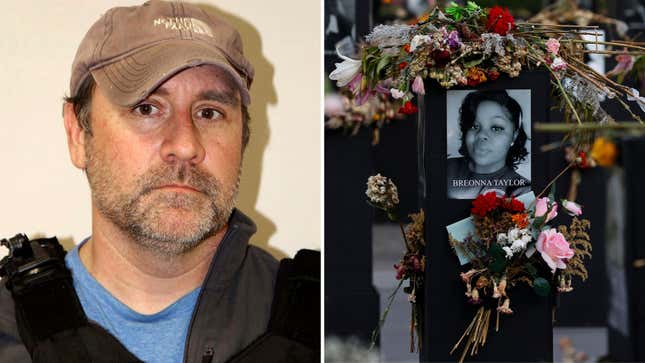 It's official: Myles Cosgrove, the ex-cop who killed Breonna Taylor, is an officer once more.
Taylor Lautner Doesn't Even Remember Saying 'Bella! Where the Hell Have You Been Loca?'
Over the weekend, the Carroll County Sheriff's Office in Kentucky confirmed they'd hired Cosgrove, two years after he was terminated from the Louisville Metro Police Department for failing to follow use-of-force procedures and for not using a body camera during a raid on Taylor's apartment. He was one of three officers, including Brett Hankison and Jonathan Mattingly, who fired shots during the raid, but it was Cosgrove's that were determined to be fatal.
Notably, Cosgrove never faced any criminal charges related to Taylor's death despite being terminated by Louisville police—a decision he attempted to sue them for and failed.
In a report from WLKY, the Chief Deputy of Carroll County, Rob Miller, said Cosgrove was hired as a sheriff's deputy on April 20 and is already on active duty. According to Miller, it was Cosgrove's "long-term experience he has as an officer and his technical skills" that made him a viable hire.
"We're going to give him a chance," Miller said. Oh, it gets bleaker. When Miller was prompted about whether or not the fact that he murdered an innocent woman in her own home made it into the hiring process, he explained that the department believed he was simply executing the search warrant (a warrant which officers admitted in federal court was falsified). Of course, it didn't hurt that the Kentucky Law Enforcement Council chose not to revoke Cosgrove's police certification when it voted in November 2022.
Then, when asked about backlash for allowing Cosgrove another "chance," Miller answered that "there will be opinions on both sides of the equation."

On Monday, protests in Carroll County, including one outside of the Caroll County Courthouse and another outside of the Sheriff's office, took place in response to the hiring.
Much like the Catholic church wherein predatory priests roam free, there's always another place within law enforcement that's all too willing to welcome barbaric police officers.