Once upon a time, a long long time ago (ok, a year and a half), I lived amongst the techies and burners of San Francisco. I'll always love that beautiful city for its breathtaking views and burritos, but Christ did all that chillness stress me the fuck out. I never felt more like a neurotic high-strung misfit than the time I had to look for housemates on Craigslist. Whether I was checking out an "ABSOLUTELY NO GENDER NORMS" kink-conscious household with five chickens named after notable socialists or a spot that served as an experimental vegans-only puppet theater on the weekends, I always ended up wondering how it was possible I was born an ostensibly open-minded California girl.
This Craigslist ad perfectly encapsulates everything that's so obnoxious about San Franciscans.
It's 7:14am and the sun is beginning to reach through the window, around your curtains, gently rousing you from an undisturbed night of rest. Sitting up, you hear the jingle of a bell – it's Bambina the cat, scurrying towards her food bowl. You know that your lovely roommate, Marina, will soon follow, rubbing the sleep from her eye and muttering about the "little bastard" under her breath. Minutes later, Kyle walks past with one of his many bicycles. You wish him a nice day as he heads out the door to his job at an ad agency.
7:14am, eh? How quirky! "One of his many bicycles"? Of course. "Ad agency?" Perfect.
Stepping into the newly remodeled kitchen, Marina asks if you would like to taste some of the kale smoothie she just made…it is surprisingly delicious. You sip the delicious smoothie and look out onto the garden where a hummingbird is gracefully sipping it's [sic] own breakfast from a flower.
G/O Media may get a commission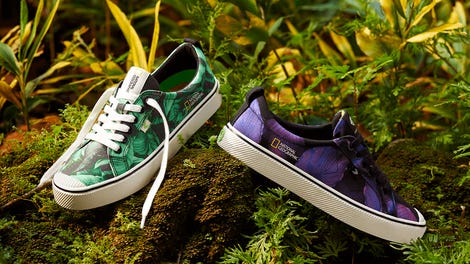 New New New
Cariuma + National Geographic
Hummingbirds scare me, as do people who offer me green stuff/talk to me before I've had my morning coffee.
It's time to shower and you head into the bathroom – completely redone with two sinks and copious amounts of storage space. Smiling and sighing to yourself as you look in the mirror, you whisper, "Today is going to be a beautiful day!". That's just like you. Always so positive.
I get it: I'm on Adderall!
You've brushed your hair and your teeth, bid Bambina adieu, and now it is time to catch the bus. Luckily the lightrail is around the corner, as are the 10, 48, and 22. Getting to work will be a breeze! You wave to Fred across the street, and walk over to Piccino's for a quick cappuccino before heading to the bus stop.

It's so sunny and everyone is smiling as they walk their dogs or push their adorable and well dressed children in their strollers. Why is everyone so happy? What is this place?

Welcome to the Dogpatch, my friend. This beautiful sliver of San Francisco could be your new home!
At this point, I started to feel bad — the Dogpatch is really nice, even if everyone's drinking the kale Kool-Aid — until she described herself and her roommate as "work hard/play harder types." I know, I know, I'm being a bitch. Which is why I moved to New York. Because I will never speak French to a cat.
Update: The author of this post emailed me to say that the ad was supposed to be "entirely sarcastic, however people seem to be latching on to the idea that naturally someone from SF would write about a Utopia in which we all hold hands and feed kale milkshakes to hummingbirds. I assure you that it was never meant to be taken seriously." Do with that what you will!
[Uproxx]