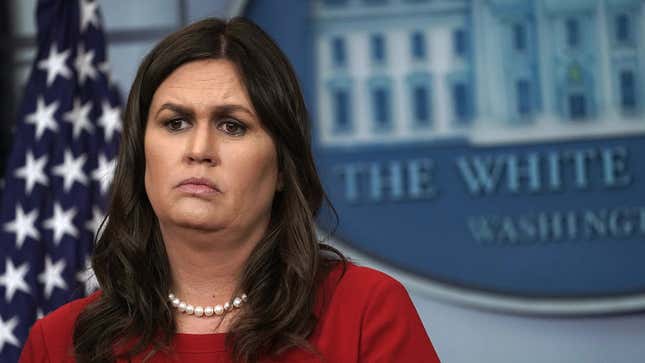 White House Press Secretary Sarah Sanders doesn't like to be called a liar. "It certainly bothers me," she told the New York Times magazine in 2018 of her reputation as a liar. "Because one of the few things you have are your integrity and reputation," she said, adding that "there's a difference between misspeaking or not knowing something than maliciously lying." Unfortunately for Sanders, Special Counsel Robert Mueller's report underscores what we already knew to be true: that she regularly lies through her teeth.
Mueller's report documents several instances of Sanders lying to the press, all of which you probably already knew about. There's the time, after Donald Trump fired former FBI director James Comey, that Sanders told reporters that she had heard from "countless members of the FBI" that they were "grateful and thankful" over Comey's firing.
But when interviewed by Mueller's investigators, Sanders acknowledged, in the words of the report, "that her comments were not founded on anything," describing her reference to hearing from "countless members of the FBI" as a "slip of the tongue." It was, she said, something she said "in the heat of the moment."

The Mueller report documents other instances of Sanders covering up for her boss, from denying that Trump would demand personal loyalty from Comey (he did), to lying about when Trump made his decision to fire Comey (as well as then-Attorney General Jeff Sessions and Deputy Attorney General Rod Rosenstein's involvement), to lying about Trump's role in dictating a statement about Don Jr.'s meeting in the summer of 2016 with Natalia Veselnitskaya.
All of this paints an unsurprising portrait of a woman who has no qualms about lying to defend an indefensible man and administration. And it is equally not surprising that Sanders has now gone on the offense in defense of her, well, lying.
"Look, I acknowledge that I had a slip of the tongue when I used the word 'countless,' but it's not untrue," Sanders said in an appearance on Fox News on Thursday. On Friday morning, she again parroted that line, appearing on Good Morning America and CBS This Morning.
The Mueller report doesn't tell us much we didn't already know about how this administration operates. They've been saying it to our faces for two years now.