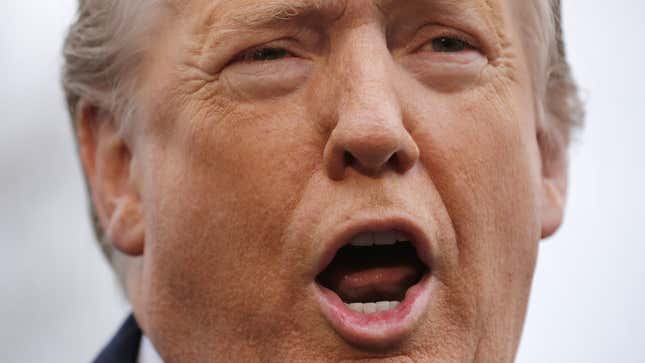 This past weekend, the New York Times reported that Donald Trump is preparing to pardon a slew of U.S. soldiers who have been either convicted or accused of committing war crimes, including killing unarmed Iraqi and Afghan civilians and urinating on dead corpses, just in time for Memorial Day. How lovely.
But Trump's idea to essentially endorse, or at least accept, these atrocities didn't emerge out of the ether—it turns out that one Fox News host has been privately campaigning for the pardons. According to the Daily Beast, Pete Hegseth, a host of Fox & Friends and an "informal adviser" to Trump, has been lobbying hard for months to get Trump to pardon one of the men in particular, Special Operations Chief Edward Gallagher of the Navy SEALs.
From the Daily Beast:
According to three people with knowledge of the situation, Hegseth had multiple private conversations on the topic with President Trump over the past four-and-a-half months, with Gallagher's case among those he pushed. The Fox & Friends host repeatedly told Trump that the process had been "very unfair" to Gallagher, two of these sources tell The Daily Beast. Hegseth pushed the president not only to publicly help Gallagher, but since at least March has specifically advised Trump to pardon him and the other men, the sources said.
Gallagher is currently awaiting trial for the war crimes he's been accused of committing while being stationed in Iraq. Let's review his long list of alleged war crimes, shall we?
Gallagher allegedly knifed a wounded, defenseless teenage fighter U.S. forces had captured. Via the New York Times:
Navy investigators said that one SEAL medic was kneeling over the fighter's head, treating him, when Chief Gallagher walked up and, without saying a word, took out a handmade knife and stabbed the teenager several times in the neck and side.

Investigators said two other SEALs gave similar accounts.

Members of the platoon then posed for photos with Chief Gallagher as he held the teenager's head up by the hair with one hand, and held his knife in the other. Photos show Chief Gallagher then raising his right hand to perform a re-enlistment ceremony over the dead body, while another SEAL member holds an American flag.

Soon after the episode, investigators said, Chief Gallagher texted a photo of the body to a fellow SEAL member with the message, "I got him with my hunting knife."
He also apparently loved to shoot at unarmed civilians from his sniper perch, including a young girl:
Two SEAL snipers told investigators that one day, from his sniper nest, Chief Gallagher shot a girl in a flower-print hijab who was walking with other girls on the riverbank. One of those snipers said he watched through his scope as she dropped, clutching her stomach, and the other girls dragged her away.

Another day, two other snipers said, the chief shot an unarmed man in a white robe with a wispy white beard. They said the man fell, a red blotch spreading on his back.
Here are the other fine men that Trump is looking to pardon, according to the New York Times:
The others are believed to include the case of a former Blackwater security contractor recently found guilty in the deadly 2007 shooting of dozens of unarmed Iraqis; the case of Maj. Mathew L. Golsteyn, the Army Green Beret accused of killing an unarmed Afghan in 2010; and the case of a group of Marine Corps snipers charged with urinating on the corpses of dead Taliban fighters.
But to Hegseth, other Fox News ghouls, and Republican members of Congress like Duncan Hunter and Matt Gaetz, these men are heroes.
From the Daily Beast, which reviewed months of Hegseth's Fox & Friends segments:
Hegseth and his Fox & Friends colleagues have interviewed the families of Gallagher and Maj. Mathew Golsteyn—who was charged with murdering an Afghan male detainee and burying the body rather than releasing him in 2010—often pleading with Trump to pardon the men. "These guys make tough calls in moments for most people have never been a part of in their life," Hegseth said to Gallagher's brother Sean in February, "and then folks in suits in Washington, D.C., they throw paper at them and accuse them of things."

In April, Hegseth interviewed Don Brown, a defense lawyer for 1st Lt. Clint Lorance, who was convicted in 2013 of ordering the murder of two Afghan civilians who his own soldiers said posed no threat. "Mr. President, you have the greatest signature of all presidents who I have ever seen historically," Brown begged, claiming that, as commander-in-chief, Trump has the power to "disallow" the sentence against his client. "Clint is guilty of nothing except for being a red-blooded American patriot who put his lives on the line for his country."
Hegseth has a penchant for referring to the killing of innocent civilians and injured fighters as soldiers just making "tough calls." "These are men who went into the most dangerous places on earth with a job to defend us and made tough calls on a moment's notice," he said this past Sunday. "They're not war criminals, they're warriors."
Apparently, Donald Trump agrees.