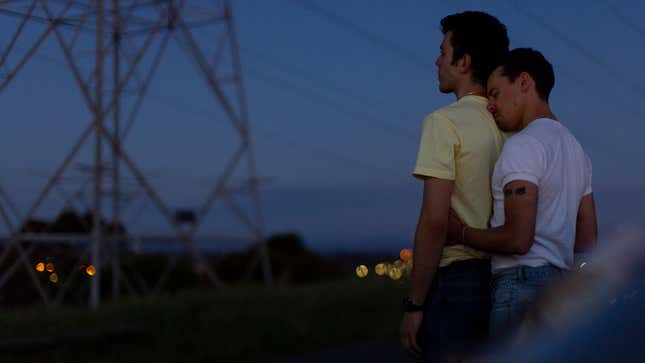 There is a trope within queer stories, specifically those told in cinema, that cloisters its characters from the rest of the world, where they foster their love: Jack and Ennis on Brokeback Mountain, The Living End's Luke and Jon on the road, Weekend's Russell and Glen in Russell's apartment, Portrait of a Lady on Fire's Marianne and Héloïse on their island. Its frequency has done nothing to diminish its poignancy—see the mass waterworks unleashed by Bill and Frank, two guys in love at the end of the world, in the third episode of The Last of Us. The latest employment of this setup, Of an Age, comes from writer-director Goran Stolevski, the Macedonian Australian filmmaker whose film about a shapeshifting witch, You Won't Be Alone, was a breakout of last year's Sundance Film Festival.
Of an Age, out now, tells the story of the gay awakening of 17-year-old Nikola (Elias Anton), spurred by a road trip to retrieve his best friend Ebony (Hattie Hook) with her older brother Adam (Thom Green). Like many of the movies that allow queers to live together in a blissful silo, Of an Age forges bittersweetness from the terminal nature of this life-altering connection—the day after they meet, Adam is set to head to Buenos Aires to begin his doctorate.
"Being the two people in a crowded room that have this secret between you is extremely fucking sexy, and it's electric, and it's also very poignant and romantic," Stolevski told Jezebel in a recent Zoom. "I think that's a benefit of being queer. I look for the things that are emotionally fulfilling and transporting even under horrific circumstances. And I think the world that is shaping these two guys, especially Nikola, is very present in the film around the edges. I think we all know what the obstacles are, and I think no one who is going to watch this film needs to be explained that there are obstacles."
Stolevski set his romance in 1999 "because it's before technology made it easier to connect with people like you." The setting reinforces just how crucial this bond is to both guys, particularly Nikola (who is referred to throughout the movie as Kol). Kol's situation is further complicated by his experience as an immigrant to Australia from Serbia—he's someone who is regarded sometimes derisively as an outsider in his hometown, and his traditional household expects a certain amount of conventional masculinity in his presentation (not an easy feat as a ballroom dancer). Stolevski moved from Macedonia to Australia as a kid, but he said that Of an Age is "an emotional autobiography," not a literal one. "Both of them are me," he says of his characters, but he relates more to Adam—for one thing, he was "militantly out" his final year in high school, unlike Kol, who's still finding himself. (Adam at one point refers to his ex as "Goran," but Stolevski said he used his own name for no reason beyond it being "an easy ethnic name to spell really quickly.")
G/O Media may get a commission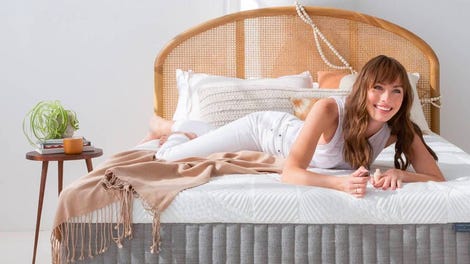 Sleep Sale
Sleep Sale - Brentwood Home
When casting these dimensions of himself, Stolevski looked for openness in actors. He spotted Green in a clip from a movie, in which he rode a bike, got off it, and walked into a cafe. "There's no emotional histrionics, no nothing," Stolevski said of the clip. "He has nothing to act opposite of, he feels super present. It's like Fred Astaire and the hat rack. When he's looking at something, that thing comes alive like he's dancing with it." For the role of Kol, Stolevski auditioned "hundreds" of guys.
"Every audition was like a kid putting on a selfie face and then like, kind of thinking about how they look while they're being looked at and, you know, just the sense of trying to say the lines in a way that seems witty," said Stolevski. "It was very presentational. Whereas with Elias, feelings were flowing out, it almost felt like in an unconscious way."
To foment chemistry between his principals, Stolevski said they all spent a lot of time hanging out before shooting. And then he let them take as much time as they needed on set. "I would say, 'Action,' but action just meant we're filming and the crew is ready—but you can start whenever the feelings start."
In addition to the conceit, there are some stray references to queer films in Of an Age: Adam listens to the score of Wong Kar-wai's 1997 film Happy Together (yet another isolated gay two-hander, which finds a couple from Hong Kong marooned in Buenos Aires) and references Alfred Hitchcock's 1951 noir Strangers on a Train, which has long been interpreted as having queer subtext. I wondered if these inclusions suggested Stolevski was consciously situating his film in the queer canon. Not quite, he said.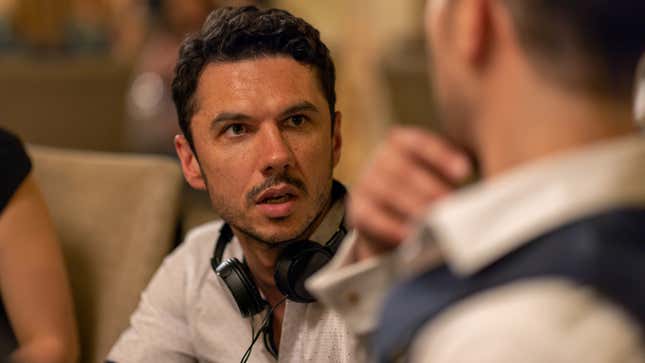 "When I was that kid that's a conglomeration of [Kol and Adam] in '90s suburbia of Melbourne, I thought real life happened far away," he explained. "I thought real life happened where Isabelle Huppert was, or Almodóvar was, or God knows where Wong Kar-wai was. The feelings that were important were the cinematic feelings, and I was in the opposite place to what is cinematic."
"I would walk around listening to the kind of romantic Wong Kar-wai music or whatever, not really hearing or being alive in the present moment, sort of having my head in these movies far away and just missing my day to day," he continued. The references were, he said, "a way of including the things that were important to me and that shaped me, and especially in a queer context."
Another inclusion is Tori Amos, whose 1998 b-side "Cooling" plays in a pivotal scene. Like Adam, who reveals his email handle contains "YKantAdamRead," a reference to Amos's cult 1988 debut album Y Kant Tori Read, Stolevski's handle was once YKantGoranRead.
"With You Won't Be Alone, I think the implication [in the response] was that I kidnaped Terrence Malick's children and suffocated them or something. Generally speaking, that was the subtext, which, you know, I fucking love him. Obviously he's an influence. But I was like, 'I'm surprised that people don't notice Tori Amos is as much of an influence,'" he said.
"Tori Amos was very important to me," he continued. "[During the scene] while this boy is trying to be like, you know, it's okay to be gay, she's singing in the background, 'Is your place in heaven worth giving up these kisses?' There's a lot of lyrics of Tori Amos that I found emotional solace in, but I was really happy I could include that one."
Seeing how Of an Age fits within queer film tradition is one thing. In some ways, it's more of a challenge to do so within Stolevski's own oeuvre; the film is radically different in aesthetics and tone than the grisly fairytale that preceded it. Stolevski described himself as "not strategic" when conceiving his movies.
"I really like falling into a web of feelings and relationships and connecting to a character and then, you know, using every kind of cinema technique to put people under the skin of this person," he said. "To me, style is really just an extension of the person's feelings. How much the camera is shaky or isn't shaky or whatever isn't me being fancy. It's literally: 'What's their heartbeat right now and how do I connect with them, firstly, just as myself, and then hopefully the viewer also has the same connection.'"
He did, though, point out that (explored in radically different ways) both of his features explore themes of loneliness and connection: "When the world makes it hard for you to find someone to connect with, and even after you've connected with someone makes it harder still, how do you make it feel like it was worth it?" Stolevski pointed out that Of an Age could have been easily called You Won't Be Alone, as well. "It would be an appropriate use of the title," he said.