How about a walk on the wild side with a "sapio-sexual intellectual activist?" If that's your cup of tea, check out Harrison Schultz, a loosely appointed Occupy Wall Street spokesmen, on RentAGent.me. He's only $200!
Honestly, if the photo above doesn't say it all, then here's his "resume" on the site:
I'm one of the organizers of Occupy Wall Street. I am a true sapio-sexual intellectual-activist. Currently finishing my Phd and writing a dissertation on erotic arts, I am an expert in NLP (neuro-linguistic programming) and erotic hypnosis. Or you can just eat sushi off of my body, up to you.
Cool.
Schultz, who's especially knowledgable in the "erotic arts," gained fame in 2011 as a talking head for the Occupy Wall Street movement, though the group wasn't really into selecting spokespeople. Still, Schultz appeared on television representing OWS and even visited Fox News to verbally spar with Sean Hannity, who, in short, told him to suck it up and get a job. As for RentAGent.me, according to Vanity Fair, it's not so much an escort service as a place to rent a man to do whatever you want, like "putting together your Ikea furniture to writing a poem for you to singing for you to accompanying you to a charity event . . . even to teaching you how to do breakdancing or karate." I mean, I've got a clogged shower drain that needs fixing.
"There's a wide range just depending on the guy's talent," Shikhman told N.Y.U. Local. "What combines it all is that all the guys are good-looking, very charming in person, and have at least one talent."
G/O Media may get a commission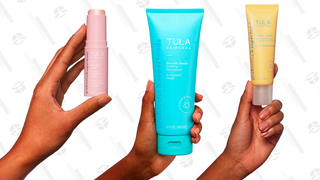 One RentAGent user reviewed Schultz as "Exceptionally different from others" and a "Hot and seductive activist." Guys, he's imitating a karate stance in one of his profile images. LOL. How is this legal?
Image via RentAGent.