Being a lawyer is probably somewhat of a challenge, what with the whole having a person's fate in your hands thing. But the way How to Get Away with Murder portrays the stressful act of attending law school, then actually being a lawyer seems like a cakewalk: Shonda Rhimes' new procedural drama makes law school look like The Hunger Games.
The show stars Viola Davis as Professor Annalise Keating, a cutthroat (as in, she might cut your throat) defense attorney who also teaches Criminal Law 100—or, as she likes to call it, HOW to Get aWAY with MURder — at the fictional Middleton University. Since this is ShondaLand, some crazy shit goes down. In episode two, for example, Annalise's billionaire client Max St. Vincent stands accused of stabbing his wife to death in their bed. To recreate the murder, for some reason he has one of her male students lay in the still-bloody bed as he simulates the stabbing. The disturbing violent imagery, on top of heavy sexual undertones, make it a classic absurd TV moment.
Shonda Rhimes' shows laugh in the face of reality, so you will suspend all belief—it's intentionally exaggerated, and that's part of what makes them great. As unimaginable as some of the plot lines can be, though, How to Get Away with Murder is based on our actual legal system, and executive producer Betsy Beers' husband serves as a legal consultant.
We, too, have a law expert: Nakia D. Hansen, a digital and legal strategy consultant who has a Juris Doctor degree from Temple University Law School and a Master of Laws in Intellectual Property from Benjamin N. Cardozo School of Law. After seeing her live tweets ("Not enough laptops in that room for it to be a real law school classroom. #Wellactually #HTGAWM" -@KiaJD), we asked her to break down what HTGAWM gets wrong, and right, about being in law school. Most importantly: "Law students drink at an alarming rate," she says. That and other cold-hard facts below, lovingly and painstakingly parsed by Hansen.
WHAT THE SHOW GETS WRONG:
"Annalise begins class by saying, 'Unlike many of my colleagues, I will not be teaching you how to analyze the law or theorize about it' — basically the underpinning of legal education since forever. While I'm in the camp that believes a modern legal education should be more practical, there's no way 1Ls (first year law students) are the ones who need to skip [learning about] hundreds of years of American jurisprudence."
"Nobody studies actual open cases, and you barely study cases that occurred in the last decade. Annalise's students ONLY study current cases... her cases. That's pretty unheard of. I did notice in episode three that she shut down any further discussion of Lila's murder once she took on representing Rebecca (the neighbor chick). It's kind of odd that the other open cases are so freely discussed in class, but this one is off limits."
"My mind is blown by how Annalise brings her entire class to her law firm to hear from the defendants themselves — who basically waive their attorney-client privilege when they tell their story to a bunch of unaffiliated, unemployed students who have no obligation to keep their confidence. Okay."
"According to the American Bar Association (ABA), the accrediting body for law schools, full-time 1Ls aren't allowed to work more than 20 hours/week during the semester. Apparently Annalise trumps the ABA, though it's not uncommon or frowned upon for professors to hire students as research assistants or clerks in their second or third year. Most grading in law school is blind anyway so that cuts down on opportunities for favoritism, I guess."
"Do these kids have other classes? My 1L year, I took five classes my first semester, each requiring about 2 to 3 hours of post-class reading. Where do these kids find the time to go extorting information for sex and committing murders?"
"Note that in the first episode, Annalise asks the students to meet her in the courthouse at 9 AM. When Kayla responds that they do indeed have other classes ('Torts at 9 and Property at 11'), Annalise basically says she couldn't care less. 'The way you're whining right now makes me believe you think I'm your mother, Ms. Pratt. Show up tomorrow or drop out of the competition. It's that simple.' Um, what does the Dean have to say about all of this? Turns out the Dean is onto Annalise's shenanigans when, in episode three, he mentions how he lets her get away with a lot."
"Annalise offers up the 'Immunity Idol' for the top student, allowing them to get out of an exam. What folks might not know is that at the majority of law schools, classes usually have just one exam, a final exam. No midterms, no quizzes or other graded assignments. Meaning your entire grade relies on class participation and your final exam. So hopefully exam day isn't a bad day."
"In law school, Criminal Law, Criminal Procedure, Evidence, and Trial Advocacy are all different classes. Since no one would be able to try a case without knowing all of these, the show is shoehorning all four into Annalise's class, Criminal Law 100. That'd never happen though. CrimPro, Evidence and Trial Ad are typically second- and third-year classes."
"CrimLaw in no way is just about murder or even just about defense. That's weird. You learn about conspiracies, attempts, self-defense, burglary, sex crimes, death penalty, and on and on."
"Wes – dear idealistic, idiotic little Wes – gets the bright idea to falsify documents and pretend to be an attorney to gain access to a prisoner. As you might guess, this is wildly inappropriate. Clearly these students will break the law to get ahead, but generally this is frowned upon. Every law student I know was pretty paranoid about spending so much time and money on school only to have one stupid mistake bar you from becoming a lawyer when it's all said and done. Contrary to popular belief, lawyers do have ethical standards. In fact, law students are mandated to take a course called Professional Responsibility or Ethics in their 2nd."
"PLUS, in order to be admitted to practice, not only must students pass the bar but also the MPRE (Multistate Professional Responsibility Exam) to prove they know not to steal money, violate their client's privilege, or lie about being a lawyer. Not only is it unethical, it's a felony in some states to falsely hold oneself out as a lawyer."
G/O Media may get a commission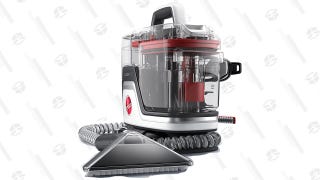 Save $10
Hoover CleanSlate Plus Carpet & Upholstery Cleaner
WHAT THE SHOW GETS RIGHT:
"In Criminal Law, you spend most of your time learning theories of crime and punishment, the elements of different crimes and defenses. For instance, First Degree Assault in most jurisdictions is made up of the following elements (simplified): intent to cause serious physical injury to another, actual injury, and use of a deadly weapon. So it was pretty true-to-life when, in episode one, Wes was questioned about Mens Rea, and in the third episode, Annalise questioned students on the so-called 'Mind Control Defense.'"
"Another place they get it right is the scene of the Law Review recruitment meeting at a bar. Law students drink at an alarming rate. There are even special organizations established to help students and lawyers with drug and alcohol problems and the flyers would be posted all over the school. Any event from a guest speaker to bar exam prep course would be accompanied by pizza and a keg."
"Cold-calling is what law school is all about. The fact that Wes is so caught off guard the first day of class when he's called on is hilarious. Didn't he read Paper Chase? Didn't he hear about the Socratic Method? In undergrad, day one might be getting to know the professor and reviewing the syllabus but in law school, day one means be prepared, whether you came off of the waitlist or not."
"Of course, no one watches these shows for their accuracy. A show all about law school would be terrible. It's a lot of work, heavy old books, weekends in the library, and it costs an arm and a leg to boot. Law students wouldn't even watch a show about law school. HTGAWM, like other procedurals, allows us to escape and gasp and kiki with other viewers on Twitter – just the kind of thing you'd need to relieve the stress of being a 1L."
Image via ABC