President Obama, a man blissfully married to a woman more beloved than the pope, gave his final press conference on Wednesday. The last hit in his goodbye tour was a thank you to the press for being a constant pain in the ass—because that is what they are supposed to be—and one very long subtweet to Donald Trump.
"You're not supposed to be sycophants, you're supposed to ask me tough questions," said Obama, demonstrating understanding of a concept that his floppy-haired successor does not seem to grasp. "Having you in this building has made us work better," he said.
POTUS added that the press corps' questions help hold the government accountable on issues, and described a free press as "essential" to democracy. Democracy "doesn't work if we don't have a well-informed citizenry," he said before speaking directly to reporters: "America needs you, and democracy needs you."
These are nice (and kind of obvious!) ideals, but don't forget that the Obama Administration does not have a good relationship with the press. In fact, a 2015 report by the Columbia Journalism Review found that "the media most responsible for covering the president and his inner sanctum are given little insight into how decisions are made or who influences those decisions, whether from inside or outside the White House." The report also said that "the relationship between the president and the press is more distant than it has been in a half century."
Still, things between reporters and the Obama administration are straight-up cuddly compared to the relationship between journalists and Trump, who is reportedly considering throwing the press corps out of the White House, has threatened media outlets with legal action and taunted individual reporters, and has dismissed outlets like CNN and NBC as "fake news."
G/O Media may get a commission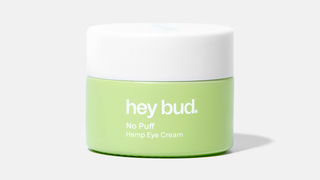 15% off
Hey Bud - No Puff Hemp Eye Cream
In keeping with his characteristic optimism (and desire for a peaceful transition), however, Obama never directly criticized Trump and refused to get all doom-and-gloom about an impending Trumpocalypse. But he did make his views clear. When fielding questions, Obama defended his decision to shorten Chelsea Manning's prison sentence, warned that the "moment may be passing" for a two-state solution between Israel and Palestine, emphasized the need to end racial and economic discrimination, urged Americans to come together in unity instead of fear, and criticized the gutting of voting rights. "The reason that we are the only country that makes it harder to vote, is, it traces directly back to Jim Crow and the legacy of slavery," he said. "Make it easier to vote, not harder."
"We've got to do a better job of treating everybody with basic respect," he said. "We've got work to do," he said, but held on to his characteristic optimism: "The trend lines are going to be good."
He is confident that one day we'll have a woman president, a Hindu president, and even a president who is all "mixed-up":
When asked what he said to daughters Sasha and Malia about the meaning of the election—particularly in light of Michelle Obama's powerful speech on Trump's disturbing "grab them by the pussy" tape—Obama said, "they don't mope" and "they don't get cynical about it."
"The only thing that's the end of the world is the end of the world," he said, which sounds a lot less comforting than it's supposed to, I think.