Cara Buckley and Jennifer 8. Lee of the New York Times delved into the still-existant world of underground abortions this weekend, focusing on New York City's tight-knit and Catholic Dominican community.
Twelve years ago, before Plan B was readily available without a prescription and before the RU-486 was legal in the U.S., Amalia Dominguez (pictured) wanted to have an abortion.

Amalia Dominguez was 18 and desperate and knew exactly what to ask for at the small, family-run pharmacy in the heart of Washington Heights, the thriving Dominican enclave in northern Manhattan. "I need to bring down my period," she recalled saying in Spanish, using a euphemism that the pharmacist understood instantly.
So the pharmacist gave her a prescription for misoprostol, which at that time was solely used for ulcers and is now part of the one-two punch of most chemical abortions when used in concert with RU-486 (mifepristone).
Its use without a doctor's care to induce abortion is, to say the least, not recommended by the manufacturer.

A spokesman for Pfizer, which manufacturers Cytotec [misopristol], declined to comment beyond saying that the company does not support the off-label use of its products and noting that the label includes "F.D.A.'s strongest warning against use in women who are pregnant."

That warning, in capital letters, also notes that the drug "can cause abortion."

But it does not always do so, not least because notions of how best to use it vary from inserting several pills into the vagina to letting them dissolve under the tongue. The side effects can be serious, and include rupture of the uterus, severe bleeding and shock.
G/O Media may get a commission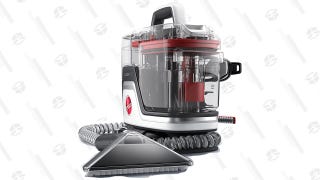 Save $10
Hoover CleanSlate Plus Carpet & Upholstery Cleaner
So why in the age of birth control, legal surgical abortion and legal chemical abortions do women still use this and other equally dangerous and ineffective methods to end pregnancy?

Researchers studying the phenomenon cite several factors that lead Dominican and other immigrant women to experiment with abortifacients: mistrust of the health-care system, fear of surgery, worry about deportation, concern about clinic protesters, cost and shame.

"It turns an abortion into a natural process and makes it look like a miscarriage," said Dr. Mark Rosing, an obstetrician at St. Barnabas Hospital in the Bronx who led the 2000 study, which was published in the Journal of the American Medical Women's Association. "For people who don't have access to abortion for social reasons, financial reasons or immigration reasons, it doesn't seem like this horrible thing."
Lee and Buckley cite stories of women scared of their parents and friends finding out, scared of deportation, women who felt unwilling to demand the use of condoms in their relationships for fear of being labeled as promiscuous and who often used the euphemism of "bringing on their periods" to linguistically deny the reality of inducing an abortion.
But, as with other methods of inducing abortions, these women risk incomplete abortions, health problems and even death, just to avoid clinic protesters, gossip, religious shame and even the potential for deportation. Safe, legal and rare is great, but where is shame-free in that formulation?
For Privacy's Sake, Taking Risks to End Pregnancy [New York Times]