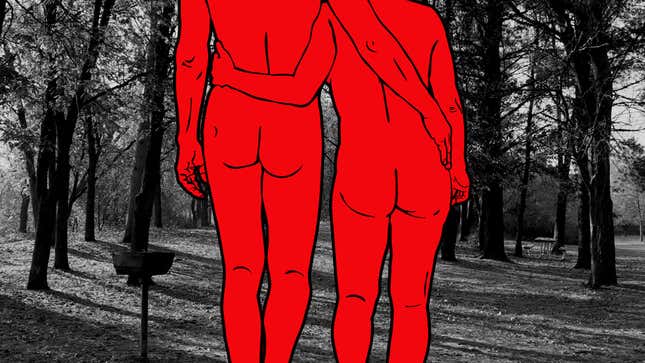 Today is day 30 of a bizarre standoff between dogged nudist Catherine Holmes and the Maryland Health Society, an 79-year-old family nudist park nestled in the pristine woodlands of Davidsonville. Holmes says she's been unlawfully evicted from her cabin for protesting inappropriate sexual activity and refuses to leave the grounds until her case is settled. The club says Holmes is a longtime troublemaker who harasses other nudists and craves attention. The controversy involves a fair amount of cock rings.
There are 260 U.S. nudist clubs and resorts associated with the the American Association for Nude Recreation, the largest and oldest established nudist organization in the country. AANR promotes "nudist family values," meaning ANNR-approved clubs, including the Maryland Health Society (MAHESO), "foster a wholesome, nurturing environment for members and their families," in which "behavior requiring an apology is not tolerated."
"There's absolutely no public sexual contact at our resorts," said Carolyn Hawkins, AANR's Public Relations Coordinator.
MAHESO promotes itself as a family-friendly hangout; its Facebook page highlights "kiddie play areas" and asks whether visitors have "ever wanted to try social family Nude recreation." According to MAHESO's website, "overt sexual behavior, questionable conduct with children or any other behavior that offends or embarrasses others" is not permitted. People who "enjoy nude recreation" are able to distinguish "between nudity and sex and keep the two in their proper perspective," the etiquette section clarifies. "Clubs are careful about who enters their facility and if anyone seems to be there for the wrong reason, they will be asked to leave."
Holmes, 53, said she started visiting MAHESO a decade ago and signed a 46-year extended cabin rental agreement in 2010 because she loved the property's pine trees and relaxed vibe. But when Vicky Jarboe took over as President of the Board of Directors last fall, everything changed. Holmes never witnessed any public sex acts herself, but she claims multiple friends and guests told her they were approached by "swinging" strangers looking to "play" on the park's grounds. There were rumors of blow jobs in the pool and sex in the forest.
Holmes also took issue with what she calls "highly sexualized and inappropriate signage," including a sign in front of Jarboe's trailer site that encourages users to masturbate and "blue ball" testicles dangling from Jarboe's golf cart, which also sports a decal of a naked woman. Don't even get her started on Jarboe's husband's "stretchy" cock ring, which Holmes said he once unsnapped in front of her. Holmes also alleges that she was verbally and "almost physically" assaulted by a drunk member over a swinger discussion that fall.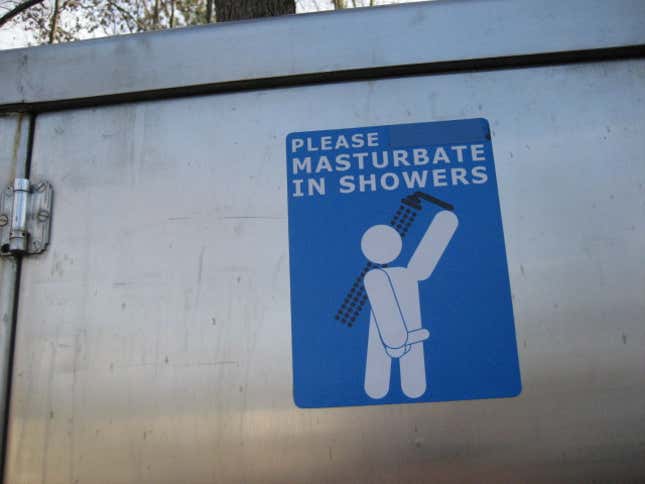 "I don't care what goes on behind closed doors," Holmes said, adding that some of her best friends are swingers. "But when people report blow jobs in the pool at the same time the park is talking about starting a youth camp, that makes me feel uncomfortable."
In late December, Holmes told the Board that she was planning on selling the remaining years on her extended term rental agreement as soon as possible. So she was confused when they sent her an email on January 10 accusing Holmes of advising visitors to stay away from members who were "swingers" and inviting her to a meeting to address their concerns. "Please let's discuss my exit strategy," she wrote. "I thought the Board had more pressing matters than quizzing a departing member about comments allegedly made last year..." Fine, the board said; they wouldn't renew her 2013-14 membership.
In April, Holmes changed her mind; she didn't have time to sell her lease, so she figured she'd stay on another year. But the Board wasn't interested in taking her back. According to court filings, they told Holmes she could use her rental unit but not the park's facilities or surrounding woods. When Holmes stuck around, they decided to revoke her rights under the rental agreement, given that she was no longer "a member in good standing." When Holmes continued to use the grounds, MAHESO called the cops on her for trespassing. In late July, Holmes found a padlock and a "No Trespassing" sign on her cabin door; since then, she's been sneaking in through a window (and sent us a "butt selfie" to prove it).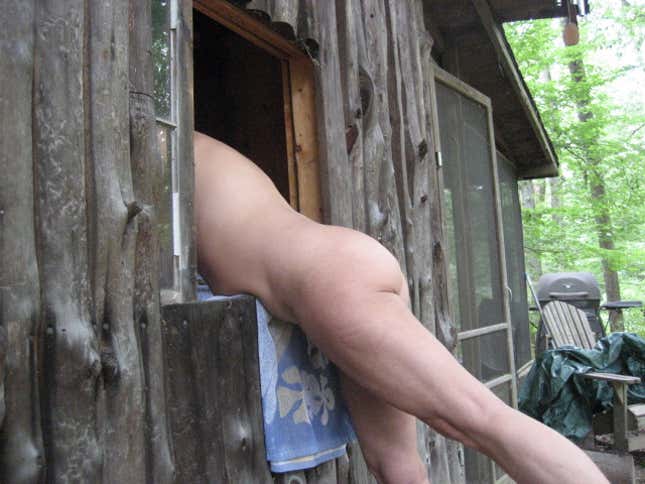 In June, Holmes filed a complaint seeking a temporary restraining order and unspecified damages from MAHESO for allegedly expelling her as punishment for her anti-swinger protests. "If the court says I must go, I will, but I refuse to let them bully me into abandoning it," she said. MAHESO responded by filing a counterclaim seeking money from Holmes for allegedly defacing property and posting "improper posters" (see below) and asking the court to officially evict her once and for all.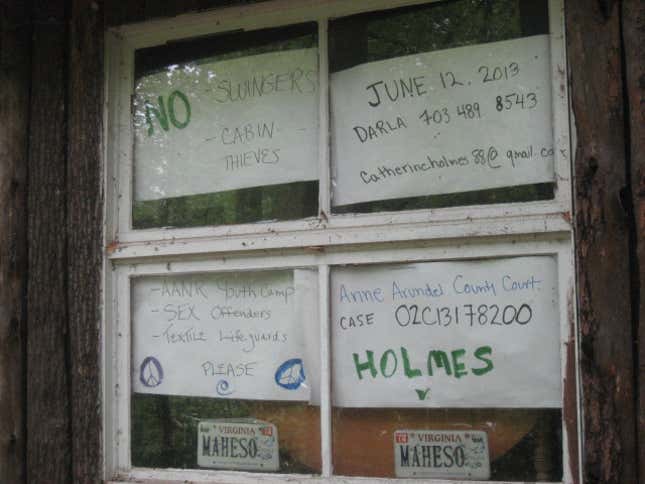 "We never even kicked her out," said an extremely frustrated Vicky Jarboe in a telephone interview. "She kicked herself out." A few minutes later, she changed her tune somewhat: "She's being kicked out for her own behavior, and that's behavior that's been going on for years." Jarboe said Holmes had been antagonizing other guests for years, even going as far to throw eggs at cars and "smear feces on the walls." (Holmes strongly denies these accusations; Jarboe said she had evidence, but declined to pass that evidence on to Jezebel.)
Jarboe said the Board of Directors had long resented Holmes but was afraid to take definitive action against her because Holmes constantly threatened to sue everyone for everything; when Jarboe took over as President last October, she decided to stand her ground.
"She wanted to leave," Jarboe repeated over and over. "She just wants us to kick her out so she can chain herself to our gate while the police and newspaper and radio people watch. We're not going to put up with her anymore."
Jarboe said MAHESO was one of the "most straight-laced nudist communities she'd ever seen and that absolutely no sexual activity was allowed outside of the grounds' private residencies. The masturbation posters and golf cart decorations were merely jokes, she said. What about her husband's alleged cock ring?
"Yes, my husband wears a cock ring," she said, "along with probably 16-20 other men here. What's wrong with that? We've got 80-year-old men here wearing cock rings. She's pulling at straws."
(Whether her husband owns a cock ring or sports a "Prince Albert" piercing is a matter of dispute; Jarboe insinuated that it was a piercing, but Holmes said it was latex and resembled a "stretchy" sex toy used to maintain an erection.)
We spoke with a few other MAHESO dwellers, none of whom said the place seemed dangerous for kids or overrun with crazy swingers. "I don't think most people feel unsafe," said one woman who has rented a cabin near Holmes for five years. "It's the opposite for me; I go there to get away from everything."
Holmes' TRO request was dismissed, but a pre-trial hearing is set for January 2014. Will the court decide that she's just "an unstable and disgruntled ex-member of an organization who is not getting her way," as MAHESO's lawyer alleged in court filings? Or will Holmes get what she wants? And what is that, anyway?
"I want them to leave me be and let me sell my cabin," she said. "I'd also love a lot of money."
Image by Sam Woolley, photo via Shutterstock.